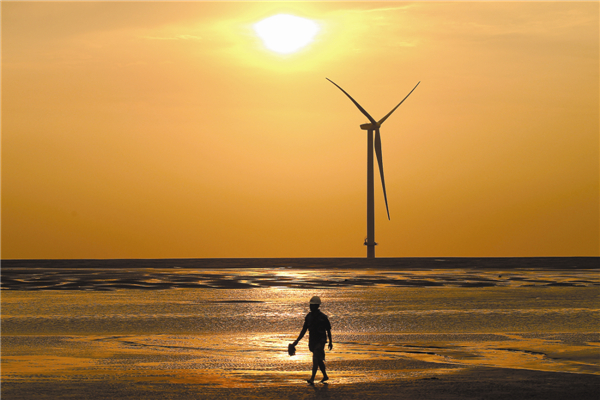 A wind farm at Rudong in Jiangsu province. China's installed wind power capacity had reached almost 63 million kilowatts by the end of 2012. [Photo by Xu Congjun / for China Daily]
China will take measures to fulfill the greenhouse gas-reducing pledge it has made to the United Nations regardless of the outcome of the Paris climate change conference. But it hopes "a powerful, ambitious and legally binding deal" is reached in Paris.
China's goals in its action plan, called the "Intended Nationally Determined Contribution", require it to cut its carbon emissions per unit of GDP by 60-65 percent from the 2005 level by 2030. It will also need to increase non-fossil energy in its primary energy consumption to about 20 percent and peak its carbon emissions by 2030.
These pledges are part of the China-US joint statement on climate change during the 2014 Asia-Pacific Economic Cooperation Economic Leaders' Meeting in Beijing.
But since clean energy accounted for less than 10 percent of the total primary energy consumption last year, a considerable number of non-fossil energy sources, including nuclear, wind and solar power, will be needed to replace the use of coal. Wind and solar power have greater potential to fill the void, although China still lags behind developed countries in terms of efficient use of energy and improvements in electricity grid despite the rapid increase in the installed capacity of solar and wind power plants in recent years.
Of all the factors, including the weak demand for electricity in some regions, the relatively high cost of generating clean energy has become a major hindrance for the nationwide promotion of new energy. And much of that can be blamed on the lack of industrial innovation. Even in some technologically advanced countries, new energy sources still cannot compete with traditional sources of energy because of their unpredictable and intermittent nature.