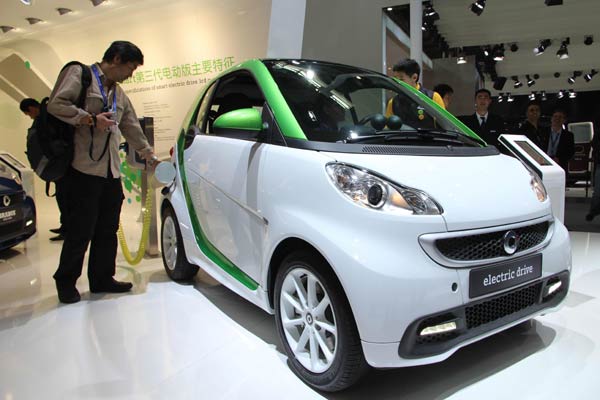 A new electric car is on show in Beijing. The future looks bright for electric cars in China amid rapidly fluctuating gasoline prices and huge investments by the government to promote use of clean energy.[Provided to China Daily]
Beijing is considering a sharp rise in the share of new license plates given to new energy vehicles next year.
To drive home the Chinese capital's resolution to tackle its mounting environmental challenges, which have just been laid bare by days of severe smog, local policymakers should make full use of the latest sense of urgency to enlist support for the greater use of green cars to help reduce vehicle exhaust emissions which are a big contributor to air pollution.
Beijing issued 30,000 new licenses for local buyers of electric cars this year, 20 percent of the total. The percentage could rise to 50 or 60 percent next year, which means an additional 30,000 to 60,000 green vehicles.
In the first 10 months, Chinese automakers produced more than 200,000 new energy vehicles, three times as many as they did in the same period last year.
Beijing's air pollution has deteriorated to such a degree that the urgency to aggressively cut emissions has become more evident than ever. And it is not just the capital; the whole country needs to rapidly promote the use of green cars.
The Beijing government actually cannot afford any hesitation in introducing as many incentives as possible to encourage the use of cars that produce low or zero emissions.
As well as giving the majority of license plates to new energy vehicles, local policymakers need to ensure there is a comprehensive network of charging stations, the lack of which is still a major hurdle to the public's acceptance of electric vehicles.
More green cars to replace traditional ones are a key measure to reduce air pollution in the capital. It is the shared duty of policymakers and 6 million drivers in the city to significantly cut the amount of exhaust emissions.