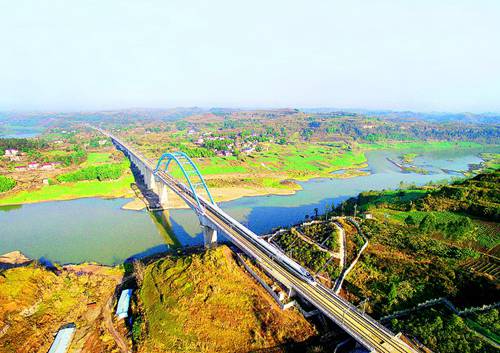 The bullet train runs over a bridge on Dec 16. [Photo/Xinhua]
At 7:50 am, December 26, 2015, G8501 train left Chengdu. One and a half hour later, it arrived in Chongqing.
Finally, two major cities in west China are linked by a high speed rail. The journey takes just one hour, half the time of the current express train. The high-speed rail is expected add more travel lines between the municipality of Chongqing and Sichuan's provincial capital, Chengdu.
More importantly, it has put the development of the Chengdu-Chongqing economic zone on the fast track. At the Central Urban Work Conference held in Beijing on Dec 20-21, a statement was released saying China will make more effort to improve city clusters in the eastern region, and foster new clusters and key regional cities in central and western regions.
To better coordinate the urbanization development, China plans on building five state-level city clusters in Yangtze River Delta, Pearl River Delta, Beijing-Tianjin-Hebei province, middle reaches of the Yangtze River and Chengdu-Chongqing.
The Chengdu-Chongqing City Cluster is set to spearhead the economic and urbanization development of the "wild west". It is also expected to become the fourth pillar of China's economy, following the Yangtze River Delta, Pearl River Delta and Beijing-Tianjin-Hebei province.
The cluster covers 15 cities in Sichuan province and the entire Chongqing municipality. In total, it affects about 100 million people and one third of the GDP in west China.
For foreign investors, this area provides a large labor force, a vast untapped market, and an ample of natural resources. Chongqing, a city with a population of 30 million people, is the fourth municipality under the direct leadership of the central government after Beijing, Shanghai, and Tianjin.
Located on the upper reaches of the Yangtze River, it has long been a gateway to the west. In recent years, the municipality has seen its economy develop at a fast pace with a double digit growth rate.
In the first half of this year, Chongqing's GDP growth rate led the country with 11 percent. Chengdu, a metropolitan in the West Sichuan Plains, has been the economic and culture center of southwestern China for centuries.
As Chongqing focuses on developing advanced manufacturing, Chengdu makes itself a business-friendly atmosphere with greater strength in the service industry. As the most developed area in China's underdeveloped west region, this city cluster is of great significance in the country's Go West plan.
While both Chengdu and Chongqing share the same dialect, it is not an easy task to coordinate the people in this grand mission due to years of competition to become West China's best. This high speed rail can make the two become one.