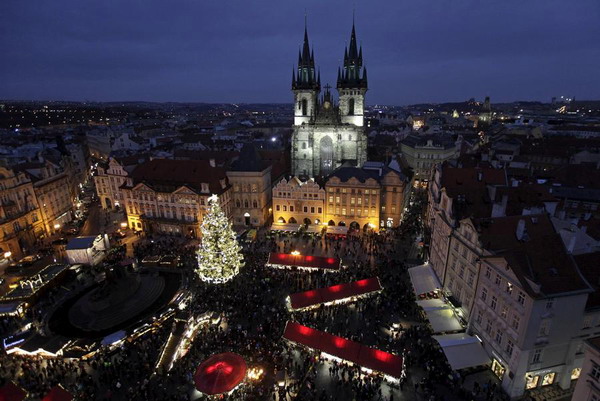 A Christmas tree is illuminated as the traditional Christmas market opens at the Old Town Square in Prague, Czech Republic, November 28, 2015. [Photo/Agencies]
When in England I was always accused of being a "Scrooge"... the miserly character from the story "A Christmas Carol" by Charles Dickens. This was because I hated what Christmas has become in the West; a season of goodwill and smiling faces, the thrill of shopping or making gifts, the enjoyment of preparing food and decorating a tree and the home that has become a commercialized rat race to buy gifts and send cards to people you have not spoken to since last Christmas. Shops selling highly priced, ridiculous objects for stupid customers who actually buy them!
Here are some examples:
A bunch of silver sprayed twigs tied with a red ribbon; £3.50 (37 Yuan)
A dried Maple leaf with some glitter on it; £4 (43 Yuan)
A Christmas card costing about 0.5pence selling at £2.50 (27 Yuan)
Add to this the misery of shopping in crowded shops where other customers clearly have no "goodwill" or patience at all. 
My family only buys gifts for the children now as the cost of Christmas is now beyond reason. Email has replaced the need for cards. The good news is that the American idea of having turkey on Christmas day has been increasingly replaced by the true European custom of having beef, lamb or pork ... or even goose.
As for it being a religious occasion, the majority of people only seem to like the presents, the atmosphere and the food. Churches on Christmas Eve are packed with people who have not entered a church all year.