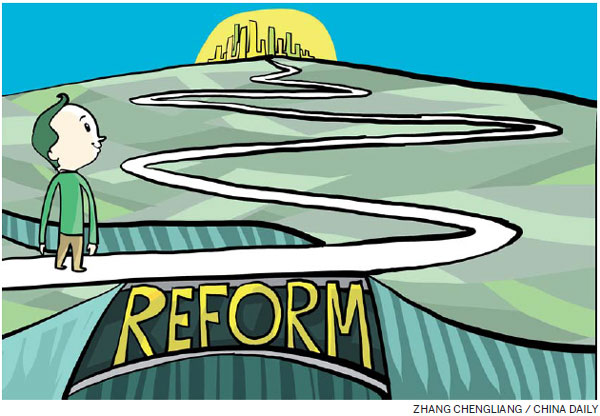 The annual Central Economic Work Conference, held in Beijing between Friday and Monday, has called for all-out efforts to speed up the carrying out of essential economic reforms.
By focusing on supply-side reform, the Chinese authorities have made the conference an opportunity to usher in changes in economic policies to improve public services, environmental protection, the quality of production and further opening-up to the global economic system.
These are essential not only to the success of China's 13th Five-Year Plan (2016-20) but also to the prospects for global growth in the coming years.
There are ample reasons for Chinese policymakers to carefully review the domestic economic performance given the disappointing international situation, which is characterized by shrinking trade, plunging commodity prices and rising capital outflows from emerging markets.
It is believed that all-round supply-side reform will help release domestic purchasing power and create new demand so that the Chinese economy can maintain its growth momentum. This is a must if China is to fulfill its goal of doubling per capita income between 2010 and 2020. It is also essential for China to be a key anchor for the global economy bracing for the uncertainties likely to result in the divergences in the monetary policies of major economies.
However, the tasks ahead are not easy.
Chinese policymakers need to cut excessive industrial capacity, especially in industries with low technology and poor market prospects. And the record housing inventories demand innovative efforts to combine the long-term development of the real estate sector with permanent settlement of migrant workers in Chinese cities.
Also deepened reform of the financial system is badly needed to prevent systemic or regional financial risks, as well as more measures to reduce transaction costs, taxes and social insurance fees to promote mass entrepreneurship and innovation.
By showing their resolve to take on these challenges, the Chinese policymakers are demonstrating their determination to accelerate the reforms necessary for sustainable and inclusive growth.