European leaders meet in Berlin, seek united front ahead of G20 Summit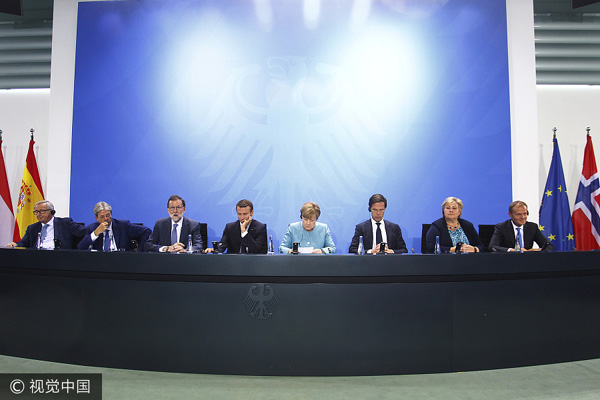 President of the European Commission Jean-Claude Juncker, Italian Prime Minister Paolo Gentiloni, Spain's Prime Minister Mariano Rajoy, French President Emmanuel Macron, German Chancellor Angela Merkel, Netherland's Prime Minister Mark Rutte, Norway's Prime Minister Erna Solberg and President of the European Council Donald Tusk attend a Press conference after a meeting of European Union leaders at the Chancellery on June 29, 2017 in Berlin, Germany. [Photo/VCG]
BERLIN - European leaders met here on Thursday, seeking a united front ahead of the G20 Summit in Hamburg on July 7 and 8.
After a meeting hosted by German Chancellor Angela Merkel, the leaders of France, Britain, Italy, Spain, Holland, Norway, and the EU said to a press conference that they would work together on climate change and free trade at the summit.
Merkel said European countries wanted to send a message of "determination" at the summit.
Earlier on Thursday, Merkel said in a speech to German Parliament that she would fight for free trade, international cooperation and the Paris climate change accord at the international forum.
"We cannot expect easy discussions on climate change at the G20 summit," Merkel said, pointing to the United States' withdrawal from the Paris Agreement.
"Our differences with the US are clear," she said.
The US "America First" policy also conflicts with European countries' support for free trade.
Despite the stark differences, European leaders expressed no intention to isolate US President Donald Trump.
French President Emmanuel Macron told the press that it did not make sense to isolate Trump, saying Europe shared "a lot" with Washington, including tackling terrorism. But he hoped the United States would "return to reason."
Merkel also said she would seek to find "common solutions" with Washington.