Greece on track to exit bailout in 2018: ESM chief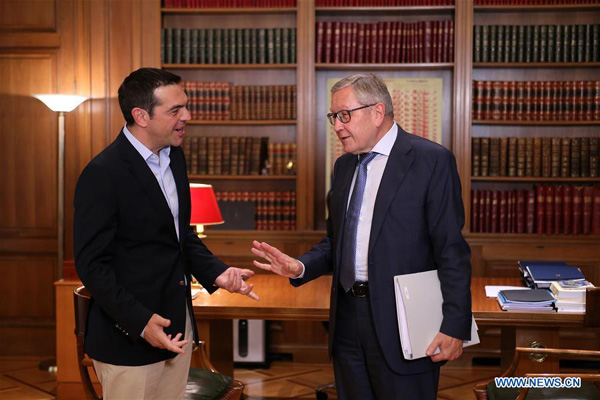 Greek Prime Minister Alexis Tsipras (L) meets with European Stability Mechanism (ESM) Managing Director Klaus Regling in Athens, Greece, June 28, 2017. [Photo/Xinhua]
ATHENS - Greece is on track to exit the current third bailout in mid-2018 and focus should now shift to growth, European Stability Mechanism (ESM) Managing Director Klaus Regling said on Wednesday.
"The painful measures are now behind us...Now you can concentrate on strengthening the prospects for growth. This is the new target," Regling said during a meeting with Greek Prime Minister Alexis Tsipras in Athens, according to Greek national news agency AMNA.
"Our common target now is to regain the confidence of the markets and to be able to finish the program in mid-2018, so that we are not in the difficult position of needing further disbursements from you," Tsipras replied.
Following talks with Greek Finance Minister Euclid Tsakalotos shortly earlier, Regling noted that the next bailout installment to Athens is expected to take place in early July and that the country could return to the markets in 2017 or early 2018 "if there is progress on reforms and the program is fully implemented", AMNA reported.