US envoy sends pre-arrival greetings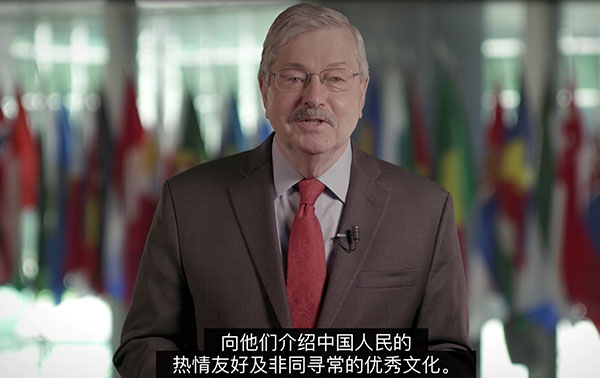 Ambassador Terry Branstad greets Chinese people in this still image taken from a video sent from the US embassy. [Video courtesy of US embassy in Beijing]  
The new US ambassador to China vowed to build up Washington's ties with Beijing before making his debut in the Chinese capital.
A statement that the US embassy in Beijing provided to China Daily said Ambassador Terry Branstad "will arrive in Beijing", without giving the time and details.
Bloomberg said Branstad was scheduled to arrive in China this week after meetings in Honolulu.
In a video that was sent with the US embassy statement, Branstad greeted the Chinese people.
"I'm Terry Branstad, and I'm excited to be the new US ambassador to China," he said in the minute-and-a-half video.
Branstad said he first traveled to China in 1984, shortly after becoming governor of Iowa.
The following year, he hosted President Xi Jinping, then a county leader, during Xi's first trip to the United States. Their friendship has since grown, and Branstad has visited China multiple times.
"More than three decades and five more visits to China later, I now look forward to working with you, the people of China, to build the future of US-China ties," the ambassador said.
A strong US-China relationship can contribute to solutions to many challenges facing both countries, he said, such as jobs, education, aging population and healthcare.
Branstad said the Korean Peninsula issue and expanding people-to-people ties will also be among his priorities.