Gulliver's Gate opens window on miniature worlds
I knew it was going to be an interesting afternoon when we entered the offices of Gulliver's Gate through a "glacier".
"This is where the woolly mammoth (scaled down, of course) is going to go," said Michael Langer, the president and co-founder of Gulliver's Gate, as he pointed to an opening in the cave-like structure.
Once past the tribute to Antarctica, I sat down to chat with Langer about the miniature version of the world he manages.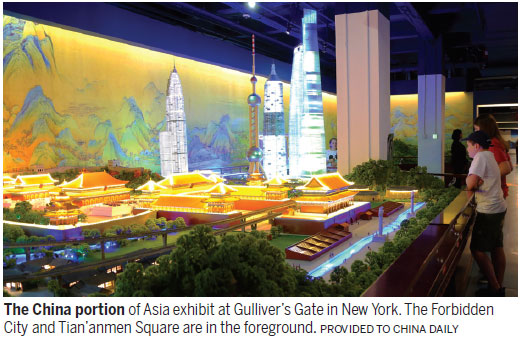 "Every step of the way we were told again and again and again that what you're doing is impossible and it can't be done, and we just didn't believe it, and we're glad we didn't," Langer said.
Located on West 44th Street in Manhattan at Times Square, Gulliver's Gate is an enchanting tour of the physical world - on a scale of 1:87 - meaning you'd be 87 times smaller if you were walking around inside it.
Opened on May 9, the 49,000-square-foot setting is a triumphant blend of persistence, creativity, technology, real estate savvy and fundraising - $40 million worth.
"It's been four years since the first ideas went on paper. It took a miraculous feat of 15 months to completely reconstruct the internal space here in Times Square while simultaneously building these beautiful models from around the world, built by artisans, over 600 of them, and flown here, shipped here from around the world," Langer said.
CEO Eiran Gazit, an Israeli entrepreneur, teamed up with Brooklyn native Langer to produce the lifelike wonders, which got some capital and buzz from a kickstarter.com campaign in 2014, but has relied mostly on private investors.
There is an Asia exhibit, in which China plays a large part. After all, it was assembled by a team of 29 workers in Beijing who built it in 178 days.
There's the Forbidden City and Tian'anmen Square, complete with miniature square-dancing ladies. There is Shanghai's famous Oriental Pearl Tower and Fujian's Tulou Cluster.
What makes Gulliver's Gate (the name a riff on Jonathan Swift's novel Gulliver's Travels, as the title character encountered the Lilliputians) so intriguing is its blend of past and present.
It all comes together with the help of 3-D printing and even drones, five of which were used to film a spectacular overhead video of Niagara Falls.
The tribute to the host city is called Metropolis, which was constructed in Brooklyn and took 358 days to complete. You'll see Grand Central Station and its tracks below cutting through Manhattan's famed bedrock. In one vignette, commuters come to the aid of a woman who dropped her handbag on the track.
Times Square has the TKTS bleachers. There is also a long map of Manhattan that was given life by a 3-D printer and eventually will be illuminated, with neighborhood sections available in the gift shop.
There's the Brooklyn Bridge, straddled by Spiderman, in one of the many pop cultural nods, or "Easter eggs", as Gulliver's calls them.
There's a picturesque New England display, which includes Fenway Park's Green Monster and the nearby Citgo sign in Boston.
Big Ben and the Tower Bridge in London are there, as is St. Basil's Cathedral in Moscow, the Colosseum in Rome and the pyramids of Egypt.
The Latin America exhibit highlights Rio de Janeiro's Copacabana Beach, hilly favelas and the Christ the Redeemer statute. It also includes the Panama Canal, with ships passing through.
Gulliver's Gate also shows what it's made of. The workstations where the models and landscaping are made are viewable to visitors.
And the work goes on apace.
As Langer was explaining the Europe exhibit, a worker popped up from underneath it, near the Leaning Tower of Pisa.
You can even have a 3D-scanned miniature version of yourself made and become a "model citizen" of Gulliver's Gate in the country of your choosing.
Contact the writer at williamhennelly@chinadailyusa.com