Vice-Premier meets Hungarian elites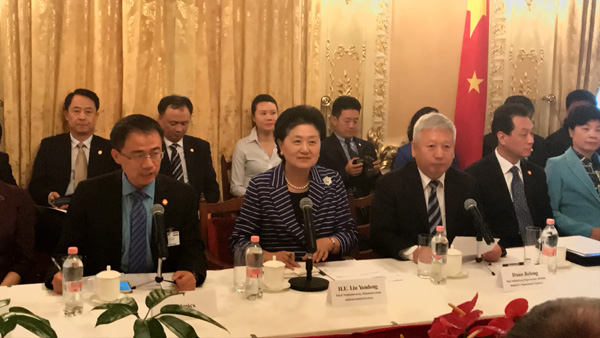 Visiting Chinese Vice-Premier Liu Yandong talks with Hungarian scholars at the Chinese embassy in Budapest, June 20, 2017. [Photo by Lei Xiaoxun/chinadaily.com.cn]
Visiting Chinese Vice-Premier Liu Yandong and other Chinese officials held a candid and in-depth meeting on Tuesday with Hungarian movers and shakers whose undertakings contributed to what Liu described as "entering the best time of the China-Hungary relationship in history" at the Chinese embassy in Budapest.
Led by Liu, the Chinese delegation was on a trip to Hungary to intensify mutual understanding and consolidating ties between the two nations, especially in culture, public health and people-to-people exchange.
Liu was the highest-ranking Chinese official paying such a visit to Hungary since the two countries upgraded their bilateral partnership to a comprehensive strategic one in May during the meeting between President Xi Jinping and visiting Hungarian Prime Minister Viktor Orban, who was attending the Belt and Road Forum for International Cooperation in Beijing.
Laszlo Lovasz, president of the Hungarian Academy of Sciences, shared with Liu and the Chinese delegates his vision of the significance of dovetailing the Belt and Road Initiative and Hungary's "Opening to the East" strategy, particularly in the science and research sectors.
Referring to new highlights of the ever-expanding Sino-Hungarian relationship, Liu called for more concerted efforts to advance technological innovation partnership, think-tank exchange, health and medical cooperation. "It will not only inject new impetus to the close bond at national level, but also benefit the overall well-being of the two peoples," Liu said.
China's healthcare sector, for instance, is undergoing dramatic reform and will release huge potential for Chinese and Hungarian researchers, educators and businesses to tap into the opportunities.
Szel Agoston, rector of Semmelweis University, briefed attendees on the highly watched China-Hungary joint teaching of traditional Chinese medicine under the partnership forged between his university and China's Heilongjiang University of Chinese Medicine.
By knowing more about how to combine the strength of Western medicine with TCM, he said, people of both countries can expect better treatment and improved health and longevity.
Praising the positive role of the Hungarian culture center, or Balassi Hungarian Cultural Institute in Beijing, Juhasz Otto, former Hungarian ambassador to China, said he expects equally huge attention will be drawn to the highly anticipated China culture center in Hungary once it's established.
Liu, as vice-premier, who leads a panel of Chinese government officials and decision-makers responsible for national soccer reform, said she believes Hungary's strength in the sport, given the country's size, can help to improve China's capability and performance in the sport.
China is seriously on a road to become a soccer world superpower, Liu said, citing big numbers such as the 70,000 fields that will be ready for use across China by 2020; the soccer-playing Chinese population will rise to about 60 million during the same time span.
China is expecting about 650,000 schools to have at least one soccer coach, and in all, that can be translated into a high demand of more than 600,000 qualified coaches.
Liu also underscored the significance of communication and exchange between the two countries' young people. With such a forward-looking vision, the Chinese government will beef up the number of Hungarian candidates for the "Silk Road Scholarship" to 100 from next year.
Contact the writer at leixiaoxun@chinadaily.com.cn