Mexicans dig through collapsed buildings as quake kills 225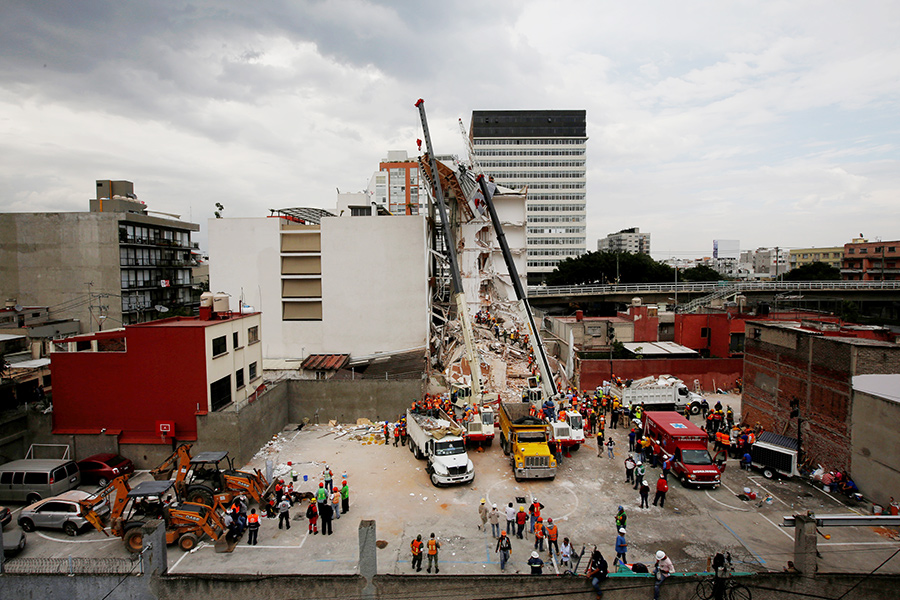 Mexican soldiers work at a collapsed building after an earthquake in Mexico City, Mexico, Sept 20, 2017. [Photo/Agencies]
MEXICO CITY - Rescuers said Wednesday they have found a surviving child in the ruins of a school that collapsed in Mexico's magnitude 7.1 earthquake, one of many efforts across the city to save people trapped in under schools, homes and businesses toppled by a quake that killed at least 225 people.
Helmeted workers worked at the debris, sometimes calling for silence, as they tried to reach the girl at the Enrique Rebsamen school in southern Mexico City.
Foro TV reported that rescuers spotted the child and shouted to her to move her hand if she could hear them, and she did. A search dog subsequently entered the wreckage and confirmed she was alive.
Tuesday's magnitude-7.1 quake struck on the 32nd anniversary of the 1985 earthquake that killed thousands. Just hours before it hit, people around Mexico had held earthquake drills to mark the date.
One of the most desperate rescue efforts was at the Rebsamen primary and secondary school, where a wing of the three-story building collapsed into a massive pancake of concrete slabs. Journalists saw rescuers pull at least two small bodies from the rubble, covered in sheets.
3-day national mourning for quake victims
Mexico's President Enrique Pena Nieto decreed three days of national mourning on Wednesday for the victims of the powerful quake that killed over 200 people and toppled buildings in central Mexico on Tuesday.
The office of the presidency made the announcement on Twitter, saying it was "to honor" the more than 200 known fatal victims of the 7.1-magnitude quake.
Previously, Pena Nieto announced three days of national mourning for the victims of the 8.2-magnitude quake that hit southern Mexico on Sept. 7, killing nearly 100 people, mainly in the states of Chiapas and Oaxaca.
The death toll from Tuesday's quake is gradually rising as rescue workers in the capital Mexico City, where 38 buildings collapsed, retrieve bodies from the rubble, and authorities assess damage in surrounding states, including Morelos, Puebla and Mexico State.
AP-Xinhua