Germany's former chancellor visits 'comfort women', reminds Japan' responsibility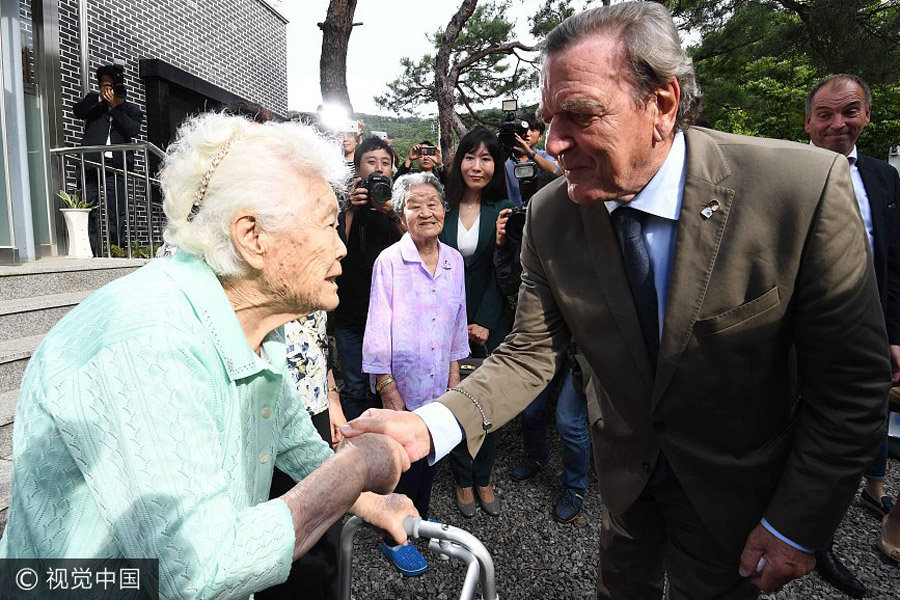 Germany's former chancellor Gerhard Schroder shakes hands with a comfort woman in Gwangju City, South Korea, on Sept 11. [Photo/VCG]
Gerhard Schroder, former chancellor of Germany, on Monday visited four comfort women who were forced into sexual slavery by the Imperial Japanese Army during World War II and expressed his concerns on Japan, reflecting upon history, in South Korea's Gwangju City.
"I think I can convey some information to Japan," Schroder said in an interview with JoongAng Ilbo, a South Korean daily newspaper, on Sept 9.
"I care about objective facts and the fate of people who have been hurt in history."
Schroder emphasized that even if today's Japanese are not involved in past crimes, they should be held responsible for what happened in history.
He donated a photo frame with Anne Frank's portrait, as well as 10 million won ($9106) to the victims.
Anne Frank is one of the most discussed Jewish victims of the Holocaust, who wrote The Diary of a Young Girl to record her life during the German occupation of the Netherlands in World War II.