China keen to deepen cooperation with AU in five priority areas: FM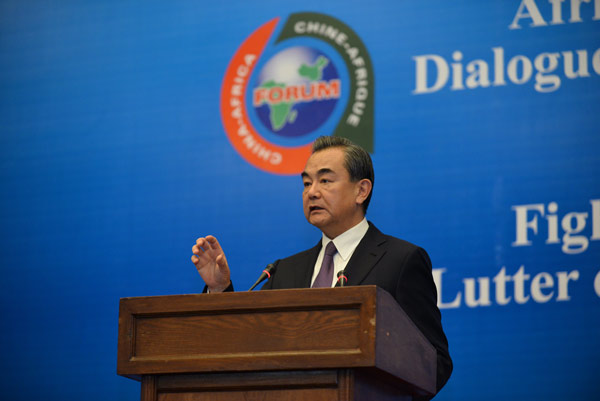 Chinese Foreign Minister Wang Yi delivers a speech at the opening of the China-Africa high-level dialogue and think tank forum on poverty reduction and common development at the AU headquarters in Ethiopia's capital Addis Ababa on June 21, 2017. [Photo/Xinhua]
ADDIS ABABA - Chinese Foreign Minister Wang Yi said Wednesday China is keen to deepen cooperation with the African Union (AU) in five priority areas.
Wang made the remarks during a joint press conference with the Chairperson of the African Union Commission, Moussa Faki Mahamat, at the headquarters of the pan-African bloc in Ethiopia's capital Addis Ababa.
The first priority area is the alignment of development strategies of the two sides, with a focus on promoting the comprehensive and effective implementation of the outcomes of the 2015 China-Africa Cooperation Forum (FOCAC) summit in Johannesburg.
Stating that peace and security cooperation is the second priority area, the foreign minister said that China has been helping Africa to enhance their own security and peacekeeping capabilities, supporting Africans in Africa to solve the African problem.
The third priority is on strengthening public health cooperation, and China is keen to support Africa's health sector, by jointly building centers for disease control (CDCs) in Africa, Wang said.
The current focus is to jointly build one Africa CDC and five sub-regional CDCs, support Africa in strengthening disease prevention and control system and capacity-building by drawing on the successful experience of China and Africa jointly fighting against Ebola, according to the foreign minister.
Human resources development is the fourth priority area, and Wang expressed China's support to Africa in training and producing more skilled citizens.
The fifth priority area focuses on coordination on regional and international issues in safeguarding the legitimate rights and interest of China, Africa and the developing countries, Wang said.
These five areas of priority in cooperation are put forward in full compliance with the current needs of Africa, in line with the urgent aspirations of the African people and the strategic direction mapped out in the African Union's Agenda 2063, he said.