Liu heralds UK partnership in education and research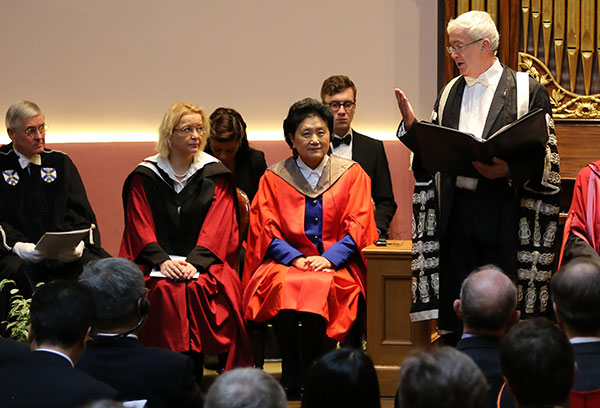 Vice-Premier Liu Yandong receives an honorary doctor of letters degree from the University of Edinburgh in Scotland on Tuesday. Du Xiaoying/ China Daily
Visiting Vice-Premier Liu Yandong received an honorary doctorate from the University of Edinburgh on Tuesday, the second day of her four-day official visit to the United Kingdom.
Speaking at the ceremony after accepting the honor awarded in recognition of her contribution to the deepening of Sino-UK ties, Liu stressed that "China has entered a new era, and China-UK relations have entered a golden age".
She said universities play an important role in the future of China and UK cooperation.
"We hope that universities in both countries can be engaged in more practical cooperation and cultivate more talent with global vision and open minds, so they can keep generating more strategic and innovative products in order to contribute more to China-UK relations, and together solve many global challenges that we face today," Liu said.
The University of Edinburgh has a long tradition of welcoming students from China and was the alma mater of the first Chinese students ever to graduate from a European university. Timothy O'Shea, principal of the University of Edinburgh, said it also has a proud tradition of promoting the teaching of the Chinese language and culture.
"This visit by Vice-Premier Madame Liu Yandong to Scotland and the university is another manifestation of our long-standing partnership and common aspiration in promoting global education and nurturing new generations of global citizens," he said.
Jonathan Seckl, vice-principal of the university, said, "It is a great honor and privilege to present Madame Liu Yandong with the doctorate of the university. In doing so, we recognize her leading role in promoting and nurturing our teaching and research capacity in Chinese language and culture, as well as the university's profile and reputation in China."
He said the university acknowledges Liu's contribution to promoting the understanding of China and its culture globally, and promoting friendship and understanding between nations.
The university houses a Confucius Institute, established 10 years ago, to promote the teaching of the Chinese language and culture.
The university has 2,839 students from the Chinese mainland, its largest international student group.
Liu also chaired the Shaping Cultural Landscapes event on Tuesday, which aims to intensify cooperation and explore complementary strengths between Chinese and British creative industries like art, film and TV production.
During her visit, she will co-chair the fifth annual UK-China High-Level People-to-People Dialogue together with Jeremy Hunt, Britain's secretary of state for health. It will be the highest-level Sino-UK dialogue in the UK this year. She is scheduled to meet with a number of dignitaries, including Prime Minister Theresa May, Foreign Secretary Boris Johnson, and Princess Anne and Prince Andrew at Buckingham Palace.
"The UK-China relationship is strong and continues to deliver benefits for both countries, so I am delighted to welcome Madame Liu to the UK for the people-to-people dialogue," Johnson said.
Hunt said: "I am delighted to once again co-chair the people-to-people dialogue, which will reaffirm the strong ties between the UK and China and underline our commitment to working together to solve some of the biggest issues facing the world today."
duxiaoying1@chinadaily.com.cn