Africans in China portray their own stories in film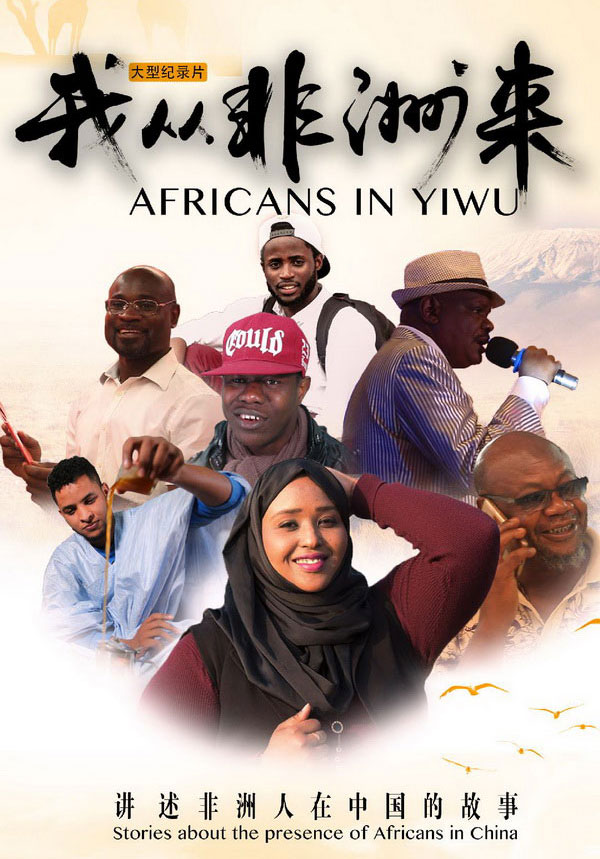 Poster of Africans in Yiwu.
A Somali-born woman who settled in China has co-produced the documentary film, Africans in Yiwu, with a Chinese university lecturer in a quest to tell the true story of the lives of Africans living in China.
All manner of stories are often told about the situation of Africans in China, largely based on hearsay or unverified information, said Hodan Osman Abdi, a full-time researcher and lecturer with the Institute of African Studies, Zhejiang Normal University.
Early in 2016, they began to shoot the six-episode documentary, which is over three hours long.
"Africa's involvement in China is widely discussed, but most are in a negative tone. Less talked about are the real lives of Africans living in China," Hodan said when asked why she spearheaded the effort to make such a film.
"We followed the lives of over 20 individuals from different African countries for two years, documenting their journeys of self-development and achievements," she said.
Hodan explained she wanted to use the power of film to get the message out to the biggest and widest audience by using a unique new lens of a combined Chinese and African vision.
There's growing excitement surrounding this production and it could turn out to be quite something, she believed, adding that the film might receive some criticism. However, she said she just wanted to contribute to the global discourse on the presence of Africans in China, as well as helping more people to understand the new models proposed by China.
Hodan grew up in Saudi Arabia, but was dazzled by Chinese culture and later came to Hangzhou, the capital of East China's Zhejiang province, in the autumn of 2005. In Sept 2006, Hodan began her undergraduate studies at Zhejiang Normal University. Since then, Hodan has engaged in China-Africa and China-Arab cultural exchanges.
She said she hopes to be an influential cultural envoy worldwide to help more Chinese to learn about Africa inside out and foster more China watchers among Africans.
Please contact the writer at liuhui1@chinadaily.com.cn