London Underground posters aimed at luring British tourists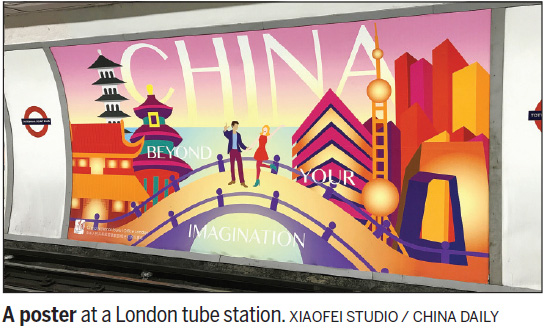 Commuters using the London Underground network are being enticed to visit China via a series of posters.
London-based graphic designer Zhang Xiaofei came up with the advertising campaign titled Beautiful China–China Beyond Your Imagination after being approached by the China National Tourism Administration.
"Showcasing my homeland across this great platform in the city I live in means a greater responsibility, and, in a way, is more personal and intimate to me," Zhang said. "The location means the work will face a larger and more diverse audience than most other mediums." With around 5 million people using the London Underground every day, Beijing-born Zhang said it is "an important part of the identity and social fabric of this diverse global metropolis".
"With its iconic logo and mapping system, the London Underground is a design classic itself," he said. "It provides a great advertising platform for Chinese tourism."
The large posters are already on display in tube stations including Tottenham Court Road, Bond Street, Baker Street, and Bank.
Zhang said he aimed to avoid stereotypes in the campaign and felt it needed a "different style to give people a fresh and multi-angled perspective" on China. He also said it needed to make an immediate impact to attract attention.
"Shouting out loud only attracts the first glance," he said. "But the second glance is when you grab people's mind and, hopefully, heart. To attract a second glance, I felt the need to use a different tone, a different look and provide the space for an emotional response and a sensory experience."
Zhang said the tagline China Beyond Your Imagination provides an opportunity "to create a world for people to dive in and immerse themselves".
"A seductive illustration style was used to construct atmospheric, dream-like scenery," he said. "The most rewarding thing was seeing many people stopping and standing in front of the posters-letting people immerse themselves in that world for a brief moment, and that world would be the China beyond your imagination."