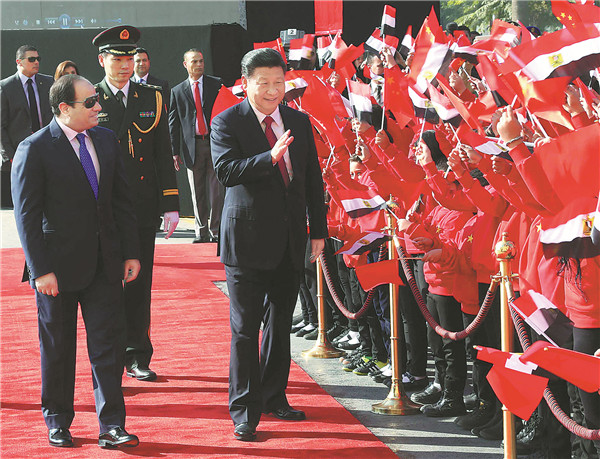 Children cheer as Egyptian President Abdel-Fattah al-Sisi walks with President Xi Jinping at the presidential palace in Cairo on Thursday. REUTERS
China and Arab states should build peace, promote development, boost industrialization, support stability and partner people-to-people exchanges in the Middle East, President Xi Jinping said on Thursday.
Addressing the Arab League headquarters in Cairo, he said China decides its position on issues based on their merits and the fundamental interests of the people in the Middle East.
"Instead of looking for a proxy in the Middle East, we promote peace talks; instead of seeking any sphere of influence, we call on all parties to join the circle of friends for the Belt and Road Initiative," Xi said.
He added that instead of attempting to fill a "vacuum", China seeks to build a cooperative partnership network for "win-win outcomes".
The president said there is hope in the Middle East and all parties should look for it by pursuing dialogue and development.
"The Palestinian issue should not fall into oblivion, and we must bring hope to the Palestinian people as early as possible," Xi said.
Earlier on Thursday, China and Egypt signed 21 documents on cooperation, endorsing a five-year plan to boost two-way ties and pledging to co-build the trans-Eurasia Belt and Road Initiative.
The initiative was put forward by Xi in 2013 with the aim of promoting common development along the ancient land and maritime Silk Roads.