China and Uzbekistan agree to intensify joint action amid increasing fears over extremists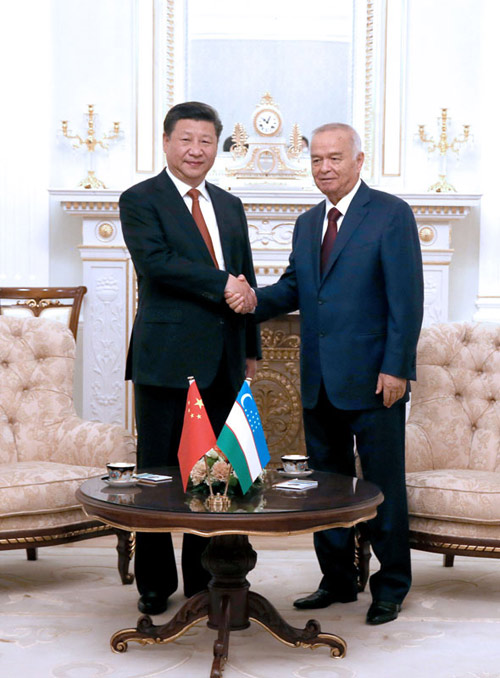 Chinese President Xi Jinping (L) meets with Uzbek President Islam Karimov in Tashkent, Uzbekistan, June 22, 2016. [Photo/Xinhua]
China and Uzbekistan agreed on Wednesday to deepen their fight against terrorism amid rising concerns over extremists in Central and Western Asia.
The joint decision was reached during President Xi Jinping's state visit to Uzbekistan.
The two countries have reached consensus on jointly combating the "three forces of terrorism, separatism and extremism", combating cross-border organized crime, and jointly maintaining regional peace and stability, Xi said after talks with Uzbek President Islam Karimov.
Xi also said the two nations pledged to deepen energy cooperation and ensure the safety of the China-Central Asia gasoline pipelines — which are vital for China's energy security.
Xi began his state visit to Uzbekistan — his second since 2013 — on Tuesday. He will also attend the 16th meeting of the Shanghai Cooperation Organization Council of Heads of State on Thursday and Friday in Tashkent, the Uzbek capital.
China and Uzbekistan share concerns about terrorism, with extremists in the two countries sometimes conspiring together. Uzbekistan is also a key point for terrorists wanting to penetrate China's Xinjiang Uygur autonomous region.
Karimov said at a news briefing that Uzbekistan firmly supports China's fight against terrorism, separatism and extremism.
Describing China as "a great neighbor" with huge advantages in its economy, innovation and talent, he called for ties with Beijing to be enhanced.