President Xi says China willing to work with Poland to promote closer cooperation with CEE
President Xi Jinping attended a ceremony to mark the arrival in Poland of the first China-Europe Block Train on Monday.
Accompanied by Polish President Andrzej Duda, Xi traveled to Marywilska in Warsaw for the event.
China currently has 39 rail lines to Europe. They start from 16 cities, including Chongqing, Suzhou, Chengdu and Zhengzhou and terminate in 12 European cities, including Warsaw, Madrid and Hamburg.
On June 8, China Railway Corp brought the 39 rail lines together under the umbrella name China-Europe Block Train, giving the trains the same type of locomotive and uniform decoration. On the same day, eight trains set off from China to Europe. The train bound for Poland arrived on Monday afternoon during the ceremony attended by Xi.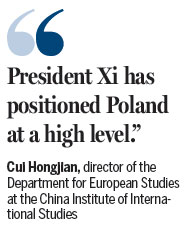 On Monday, Xi also attended an economic and trade forum attended by entrepreneurs and government officials in Warsaw.
Xi said at the forum that China and Poland should make full use of Europe's advantage in technology, China's excellent production capacity, as well as Poland's unique geographic location and rich human resources.
As an important member of the European Union, Poland leads the Central and East Europe region in many ways, said Xi, adding that China is willing to promote China-CEE and China-EU cooperation by working with Poland.
Cui Hongjian, director of the Department for European Studies at the China Institute of International Studies, said China attaches great importance to its ties with Poland.
"President Xi has positioned Poland at a high level. He said Poland is the bellwether of the CEE region," Cui said.
"I believe this not only means that Poland is the largest country or the largest economy in the region, but is also an expression of hope that Poland will play a leading role commensurate to its economic size in fields including China's cooperation with the CEE countries."
President Duda said at the forum that Poland supports the Belt and Road Initiative, the China proposed Silk Road Economic Belt and the 21st Century Maritime Silk Road, and is dedicated to Europe-Asia cooperation.
The Belt and Road Initiative is a huge geostrategic project for global change and Poland is an active supporter of it, said Jacek Bartosiak, an expert with the Centre for Analysis of the Jagiellonian Club.
Sun Yuxi, former Chinese ambassador to Poland, said that Poland is an important transportation hub in Europe, and the geographic location makes it a good partner for the implementation of the Belt and Road Initiative.
Many CEE countries including Poland need to renovate their railways, while China has top-class technology, excellent construction workers and sufficient capital. The two sides can work together in railway construction, he said.
Wang Qingyun in Beijing contributed to this story.
anbaijie@chinadaily.com.cn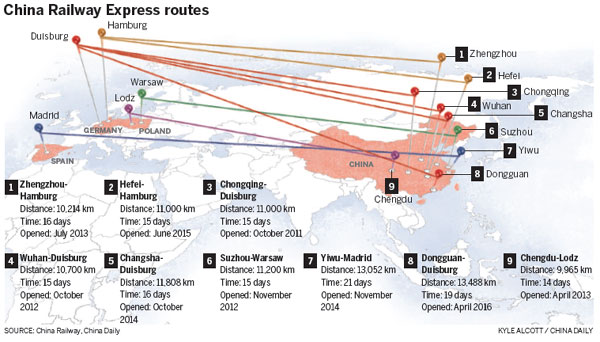 (China Daily 06/22/2016 page3)