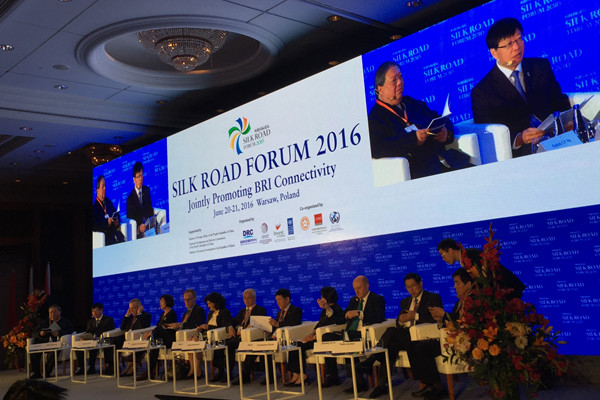 Ding Xuedong, chairman & CEO of China Investment Corporation said at the Silk Road Forum in Warsaw on Tuesday that his vehicle is also ready to help when Poland and other countries in Central and East Europe need financing. [Photo by Fu Jing/chinadaily.com.cn]
Both state and private investors from China pledged to inject fresh capital and technology into Poland and other regions of Europe under the framework of the Belt and Road initiative, which is aimed at boosting Eurasian connectivity.
They announced their commitments at the two-day annual Silk Road Forum organized by the Development Research Centre of the State Council and its global partners. President Xi Jinping addressed the opening of this forum on Monday, during his three-country tour Serbia, Poland and Uzbekistan.
"China and Poland, similar to other European countries, have faced the same challenges of restructuring economies and developing sustainability, and we are keen on investing in infrastructure, energy-saving, high-tech and innovative sectors in Europe," said Jin Qi, Chairman of Beijing-based Silk Road Fund. The medium- and long-term fund was established in the end of 2014, with a first-phase financial injection of US$10 billion, while Xi pledged that the total investment will be US$40 billion.
China and the European Union are negotiating putting a joint fund in place to connect Belt and Road initiatives and the EU's 315-billion-euro investment scheme. Jin's fund is expected to become one of Chinese founders of the joint fund, likely to be unveiled at the Sino-EU leaders meeting next month.
"We are determined to forge synergies of meg-projects between China, EU and its member states," Jin told the forum, the third one after those held in Istanbul and Madrid in 2014 and 2015 respectively.
The forum on Monday and Tuesday saw the participation of up to 1,000 representatives from various countries and the officials, business leaders and economists, who discussed the standardization of the Eurasian transportation system on land and by sea, innovative ways of finance, global governance and sustainable development and cooperation between China and Europe at regional levels.
Ding Xuedong, chairman & CEO of China Investment Corporation, told the forum his vehicle is also ready to fill the financial gap when Poland and other countries in Central and East Europe need funds. Ding said the sixteen countries in the region are expected to need at least one trillion dollars in the coming ten years to improve their infrastructure by building roads, highways, airports and other facilities. "Facing such a huge amount of capital demand in infrastructural construction alone, investment from the government could not satisfy the needs and the countries need to channel more resources," said Ding.
Even the West European powers face the challenges of filling the capital gap when upgrading their infrastructure, said Ding. "So the effective mechanism is to pool the resources from the governments, policy loan vehicles, investment funds and private sectors," said Ding, adding that Poland and the rest of Europe are investment targets of this state fund.
Apart from the Chinese investment giants, private investors have also attached growing importance to Poland and Europe.
Among them is Wu Daohong, chairman of Beijing Shenwu Environment & Energy Technology Co., Ltd, who said that China's private companies have the advantages of cooperating with European partners in high-tech sectors. During an interview with China Daily at the forum, he said he even came with him three patent technologies on biomass and clean energy, especially on using coal in a cleaner way and the talks with Polish partners are continuing. "We are quite sure that our technologies in coal sector are advancing and Poland and China, both rich in coal reserves, could boast of huge opportunities if pollution can be avoided in coal use," said Wu. Stephen Perry from the London-based 48 Group Club said the Belt and Road Initiative, a continuation of China's opening-up drive, will last from 20-50 years and one of the key determinants will be the response of the West.
He said "China wants Western involvement, as we have many of the key advanced technologies and we have funding and various capabilities in finance and technology and management that this project will require."
"If the West gets invested in this project, we will get large rewards and growth of our own," said Perry.
To contact the reporter: fujing@chinadaily.com.cn