President visits steel plant that has been revived through Chinese investment
China wants to share its advanced technologies and management experience with Serbia, to create job opportunities and improve people's livelihoods, President Xi Jinping said on Sunday.
Speaking at the Chinese-owned Smederevo Steelworks, he said China-Serbia cooperation will be a model for his country's links with Central and Eastern Europe (CEE).
The remarks came a day after Xi and Serbian President Tomislav Nikolic signed a joint declaration to lift bilateral relations to a comprehensive strategic level, the first of its kind in the CEE region.
The countries also signed more than 20 cooperation documents covering investment, economy and trade, people-to-people exchanges, and cultural communications.
Serbia, which in 2009 became the first country in the CEE region to establish a strategic partnership with China, is an "all-weather friend", Xi said before calling for both sides to expand ties.
Noting that China has never invaded another country in its history, Nikolic said it is a great nation that loves peace and dislikes conflict.
"The whole world should thank the Chinese government and people for the contributions they have made to world peace," he said.
Xi was accompanied on his visit to Smederevo in Belgrade by Nikolic and Prime Minister Aleksandar Vucic.
The company was purchased by China's Hebei Iron and Steel Group for 46 million euros ($51.8 million) in April.
Founded in 1913, the Smederevo plant went bankrupt in 2003 and was sold to US Steel for $23 million. Serbia bought the company back in 2012 and since then has been looking for new investors.
Nikolic said workers at the steel plant would become richer because the company is now being managed by "friendly and just Chinese partners".
Vucic also expressed gratitude for Chinese investment in Serbia, saying that he hoped more Chinese companies and individuals will invest in its major projects.
"Thanks to Xi and the Chinese company for bringing new hope to the 5,000 workers at the steel mill," he said, adding that the Serbian government had been working hard to look for an investor for three years.
Stanuovic Lorica, 50, who has worked at Smederevo for two decades, said the Chinese investment will bring more opportunities for the development of the 100-year-old factory.
"We're glad to see that the links between the two countries are becoming closer, which has benefited common people like me," she said.
Ljubisa Obradovic at the Serbian Chamber of Commerce added that the nation's metal-electro industry has gained a lot from Chinese investment.
"The arrival of Hesteel opens huge potential in the metal-electro industry and mining, in the sense that the level of production will double," he said.
Early landmarks
Serbia, Poland and Uzbekistan are keen supporters of the Belt and Road Initiative, while Central and Eastern Europe and Central Asia are key regions.
Connectivity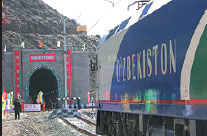 China Railway Tunnel Group built the Kurama Tunnel for the electrified Angren-Pap Railway in Uzbekistan. The tunnel, completed in February, is a key section of the 169-km railway and is the longest in Central Asia.
The Hungary-Serbia rail project, agreed by China, Hungary and Serbia in November 2013, is China Railway Corp's first project in the European Union. Once complete, the 350-km link will cut the travel time between Budapest and Belgrade from eight to three hours.
A new bridge over the Danube was opened in December 2014, the first European bridge built by a Chinese company. It is also Serbia's first new bridge over the river in nearly 70 years.
Production capacity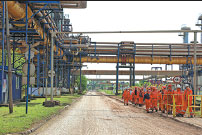 China's Hebei Iron and Steel Group acquired Serbian steel plant Zelezara Smederevo for 46 million euros ($51.8 million) in April.
In September 2014, President Xi Jinping witnessed the start of work on Line D of the China-Central Asia natural gas pipeline with his Tajik counterpart, Emomali Rahmon.
In 2013, China's Liugong Group completed the acquisition of steel company Huta Stalowa Wola and its distribution subsidiary, Dressta Co. It was the first acquisition by a Chinese company in Poland.
Financial support
Poland is a founding member of the China-initiated Asian Infrastructure Investment Bank.
The China-CEEC Investment Cooperation Fund was jointly established and invested in by China, Poland and Hungary, and was launched in Poland.
The China-Eurasia Economic Cooperation Fund, which aims to support members of the Shanghai Cooperation Organization, as well as its observers and dialogue partners, has invested in its first projects.
anbaijie@chinadaily.com.cn
(China Daily 06/20/2016 page3)