Peng Liyuan, China's first lady, met with a group of students and teachers from the Sirogojno special education school on Saturday morning. Clapping to the music, she watched a dance performance by the students, most of whom have mild to moderate intellectual disabilities or autism.
Together with Dragica Nikolic, the wife of Serbian President Tomislav Nikolic, Peng also watched the students making handicrafts.
"You're amazing. It's so beautiful," she told the students before presenting them with gifts including toy pandas and toy cars.
Dragica Nikolic told Peng, "I must tell you a little secret of mine. I made up my mind to open a special education school like this in Serbia after I visited China and saw China's special education schools and services."
Peng spoke highly of the achievements the school has made in special education, expressing a hope that special education schools in China and Serbia can promote communication and exchanges to raise the education quality.
After visiting the school, the first ladies went to Jevremovac Botanical Garden in downtown Belgrade that local residents call the lungs of the city.
There, they planted a Chinese dove tree, a species as rare as the giant panda.
Peng said she believed the tree will flourish just like the friendship between China and Serbia.
Later, Peng and Dragica Nikolic visited a tennis academy named after men's world No 1 Novak Djokovic.
"Xiao De (the Chinese name for Djokovic) has lots of fans in China," Peng told the tennis star's mother and other relatives. Not only does he have consummate tennis skills, but he also is full of patriotism, she said, before offering a present to the academy: a Chinese edition of Djokovic's autobiography.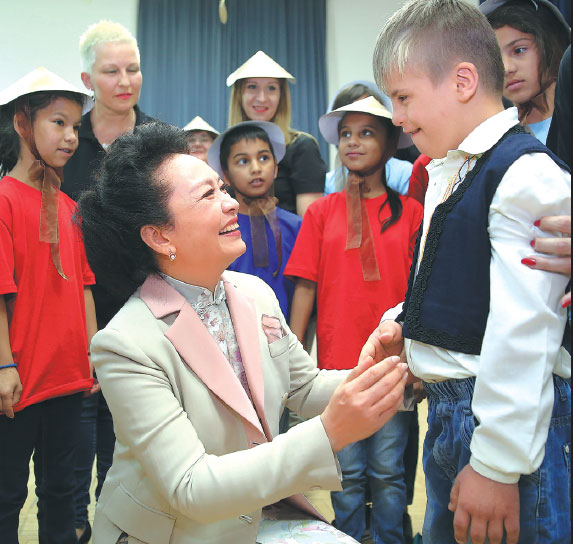 Peng Liyuan, China's first lady, meets with students and teachers at the Sirogojno special education school on Saturday morning in Belgrade, the capital of Serbia. Ding Lin / Xinhua
(China Daily 06/20/2016 page3)