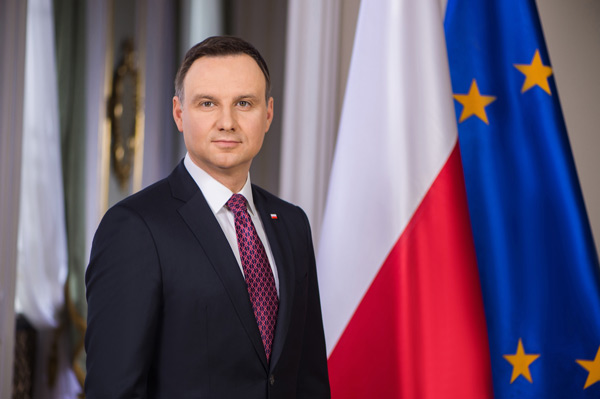 Polish President Andrzej Duda. Photo provided to chinadaily.com.cn.
Polish President Andrzej Duda said his Chinese counterpart Xi Jinping's arrival in Central and Eastern Europe for the second time in less than three months signalled his full recognition of the region's dynamics and importance.
"I have no doubt President Xi Jinping perfectly understands the dynamic in this part of the world. We are developing fast; so is China," Duda told China Daily in an exclusive interview.
Duda, 44, said his country is well prepared to welcome Xi and his wife, Peng Liyuan, to Poland today after his sojourn in Serbia. At the end of March, Xi paid a state visit to the Czech Republic, beefing up political ties and signing dozens of economic and trade projects.
"This second trip (within less than three months) underlines how important Central and Eastern Europe is becoming for China," said Duda, who visited China in November.
Recalling that during his first-ever trip to China he was deeply impressed by China's thousands of years of history and heritage, Duda stressed that President Xi will perceive Poland and the whole region as an extremely attractive market, a land of boundless opportunities for deeper economic cooperation.
During his trip to China in November, China and Poland signed a cooperation document on the Belt and Road Initiative and Poland officially became a member of the Asian Infrastructure Investment Bank.
"We see it as an opportunity to find new ways of funding ambitious infrastructural projects in Poland and other countries in Central and Eastern Europe," Duda said.
The Polish leader said that Poland has to improve the North-South axis, which has been neglected since it joined the European Union in 2004, and it needs to build more motorways and more railroads, which would form a link between the Baltics and the Balkans.
"I am convinced this would give an enormous boost to all of us," Duda said.
"And China can play an important role in this area."
"On the other hand, we also hope that Polish companies will benefit hugely from the Belt and Road Initiative," Duda said, adding that they have experience and a highly qualified workforce and he is sure they can establish long-lasting and fruitful partnerships with Chinese firms.
Duda said he realizes that Beijing is playing an increasingly crucial role in the international arena, that many Chinese companies are well-known and respected abroad, and that China has seen millions of people getting out of poverty over the last few decades.
He said one of the biggest challenges these days is the social inequality and uneven growth in urban and rural areas, and he knows how much Chinese authorities have done to tackle this issue.
"On the other hand, many European nations have had to cope with the very same problem recently," Duda said.
Duda said dozens of bilateral agreements will be signed during the visit, which will be the foundation for further cooperation between China and Poland.
"But our relations should not be solely of an economic nature," Duda said.
"I am sure both President Xi and his wife, Peng Liyuan, will fall in love with Polish culture, Polish music and, last but not least, Polish cuisine as well," he said.
To contact the reporter: fujing@chinadaily.com.cn