Australian experts brainstorm on methods of strengthening relations between two peoples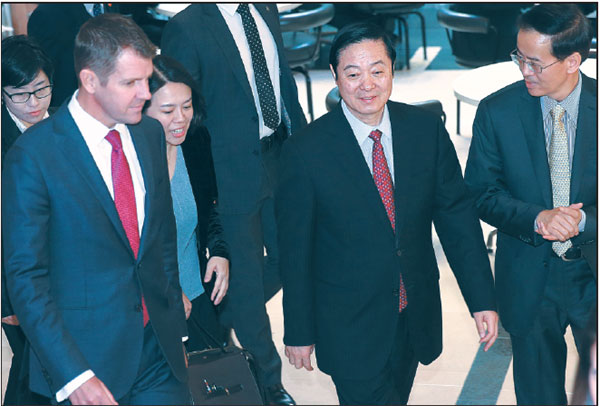 Liu Qibao, China's top publicity official, meets with Mike Baird, governor of Australia's New South Wales in Sydney on Friday.Zou Hong / China Daily
Liu Qibao, China's top publicity official, attended an unprecedented dialogue with Australian Sinologists in Sydney on Friday, aiming to push for more cross-cultural communication.
In a speech delivered at the dialogue, Liu, a member of the Political Bureau of the Communist Party of China Central Committee and head of the CPC Central Committee's Publicity Department, said Sino-Australian studies are gaining strength, with young Australian scholars joining the ranks in recent years.
"The dialogue is meant to give voice to the views and suggestions from Australian Sinologists for China-Australia cultural exchanges," Liu said, adding that "Australian Sinologists have contributed to China-Australia ties and deepened the friendship between our two nations."
He said the Australian participants at the dialogue made good suggestions, for example that Australian journalists should go to China to learn more about its 13th Five-Year Plan (2016-20) and economy.
About 10 distinguished Australian Sinologists and China studies experts attended Friday's event, which was led by Bob Carr, former Australian foreign minister and director of the Australia-China Relations Institute at the University of Technology Sydney.
"The opening of the dialogue is a very good start to strengthening that relationship," said Carr, who opened the meeting with a warm welcome to Liu and the delegation from China.
Carr commissioned a poll last year of 1,000 Chinese business leaders in China on their views on Australia. "The results were strongly positive," he said.
Ninety-four percent of those polled viewed Australia as a favorable place to do business, he said, compared with 88 percent for the United States and 84 percent for the United Kingdom.
Carr said that 83 percent rated economic relations with Australia as "extremely important" compared with 78 percent for the UK. "It (the poll) is a measure of the strong relationship between China and Australia," he Carr.
Gary Sigley, an Australian academic who attended the dialogue and a China specialist at the University of Western Australia, said, "It is the first time a meeting of this type has taken place in Australia and at such a senior level."
Laurie Pearcey, a China scholar and executive director at the University of New South Wales, said the dialogue was an "important platform".
"For Sinologists and people active in the China space, it is important to have a meaningful and a frank dialogue with someone of Liu's level," he said.
"Liu emphasized the point that China's development is fundamentally in the world's best interest and that China's development brings opportunities for people all over the world," he said, citing China's Belt and Road Initiative and the Asian Infrastructure Investment Bank as examples.