Chinese and Australian media outlets signed multiple agreements in Sydney on Friday that will promote and deepen their exchanges and build on the comprehensive strategic partnership between the two countries.
Underscoring the latter aspect, the signings were witnessed by Liu Qibao, the Communist Party of China Central Committee's publicity chief, and Gary Quinlan, acting secretary of Australia's Department of Foreign Affairs and Trade.
Six cooperative agreements were signed, involving Xinhua News Agency, China Daily, China Radio International, People's Daily website, Qingdao Publishing Group, the University of Technology Sydney, Fairfax Media, Sky News Australia, Global CAMG and Weldon International.
In recent years, China-Australia media cooperation has borne fruitful results and played an important role in facilitating mutual understanding between the two countries.
Kang Bing, deputy publisher of China Daily, and Allen Williams, managing director of Australian Publishing Media Fairfax, signed a framework agreement on cooperation and logistics on behalf of the two media groups.
Under the agreement, Fairfax Media's Sydney Morning Herald, The Age and Financial Review newspapers will issue an eight-page English-language edition of "China Watch" once a month starting in May.
"In the process of international communication, China Daily has been forging alliances with important international players in media. Our cooperation with Fairfax Media today is an example of this momentum," Kang said.
"Fairfax Media owns three important Australian daily newspapers and nine others in New Zealand, through which China Daily's influence will be spread to cover the two most important countries in Oceania," he said.
China Daily is forging the friendship with its Australian partner, he said, so that China's soft power will drive the wheel of friendship with Australia and New Zealand.
"Only by doing so can our road of cooperation be a long and rewarding one," Kang said.
Williams, on behalf of Fairfax Media, said China Watch publications would enrich the content of the media group's daily newspapers, and Australian readers will be interested in reading in-depth coverage of China and China-Australian ties.
China Watch, a multilingual publication of China Daily, reaches more than 50 million readers from political and business circles through the circulation channels of newspapers in various countries.
It appears with The Washington Post and Wall Street Journal in the United States, The Daily Telegraph in Britain, Le Figaro in France, Handelsblatt in Germany, The Nation in Thailand, Jakarta Post in Indonesia, and Uno and El Cronista in Argentina.
China Watch plays an important role in explaining China to the world and ensuring that the country's voice is heard.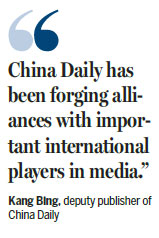 (China Daily 05/28/2016 page3)