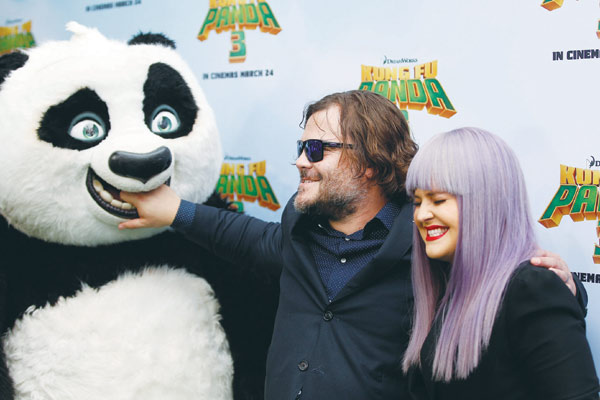 Kelly Osbourne and Jack Black arrive for the Australian premiere of Kung Fu Panda 3 at Hoyts Cinemas in Moore Park, Sydney on March 13. BRENDON THORNE / GETTY IMAGES
With cinema renovations and screenings of Chinese-language movies, China's largest cinema operator, Wanda, seems to be changing the way Australians watch movies.
"It's been fantastic working with Wanda," said the chief executive of Hoyts, Damian Keogh, talking of renovations to many of its cinemas since Wanda bought the company a year ago.
Dalian Wanda Group, which was initially a property developer, has not hidden its ambitions to become a global entertainment powerhouse, and in 2012 bought the cinema chain AMC Entertainment in the United States.
While cinema box office rose 15 percent in Australia last year, a mere handful of cinemas are built in the country every year, Mr Keogh said. In that light, making what exists more comfortable and improving visual effects and sound seems like a sensible way of coaxing more people to the movies.

Hoyts says it expects that more than 35 percent of its 450 or so screens and 50 cinemas will be renovated this year. In the refurbished cinemas viewers can recline on their seats and are given much more room to stretch their legs.
According to some estimates those extra luxuries can take up to double the space that previous furnishings did.
Ticket sales have risen, but Vincent Lloyd, the chief financial officer and chief operating officer of Hoyts, said "it is still too early to see what the overall lift will be".
"Hoyts is performing the renovations to increase the customer experience… so far it has not changed the ticket prices at most of the renovated sites."
About one million of Australia's population of 24 million are either Chinese migrants or of Chinese ancestry, and those who want to watch entertainment in their native language seem to be increasingly accommodated for.
When the Sino-US animated film Kung Fu Panda 3 was released in Australia in March, its Mandarin version — and not simply a dubbed version (the English and Mandarin versions featured different speech and animation) — was screened in Hoyts' cinemas.
Alongside the DreamWorks' blockbuster, Monster Hunt, China's highest-grossing film last year, and Mojin: The Lost Legend, a tomb raider-themed film, were among the most watched Chinese movies in Hoyts' cinemas last year, Mr Keogh said.
For Jack Gao, senior vice-president of Wanda Cultural Industry Group, Wanda's ownership of Hoyts acts as a bridge between Chinese and Australian filmmakers.
"Australia used to be mostly known to Chinese moviegoers for stars such as Nicole Kidman and Hugh Jackman, but China's increasing presence on the big screen is boosting cultural communication between the two countries," he said.
Australia's attractive landscape and tax incentives for film makers have attracted a number of Chinese film studios to the country, Mr Gao said.
China's booming movie market, which took 44.1 billion yuan ($9.39 billion) at the box office last year, and which broke some records in the first five months of this year, has attracted many overseas and domestic investors.
"China's box office has been very strong, and that gives movie producers a lot of confidence to invest in movie ideas, so a lot of Hollywood studios are investing in their pipeline of movies," Mr Keogh said.
Wanda started to build the Wanda Studios Qingdao, which is reportedly costing 50 billion yuan and will become the world's largest film and television production facility, once it opens next year.
The Zhang Yimou-directed fantasy epic The Great Wall, to be released this year, was shot mainly in Qingdao, Mr Gao said. With a budget of up to 800 million yuan, the film, starring Matt Damon and Andy Lau, is the most expensive ever Sino-US coproduction.
"It's really so good to see Chinese films scale up to a new high level," Mr Gao said.