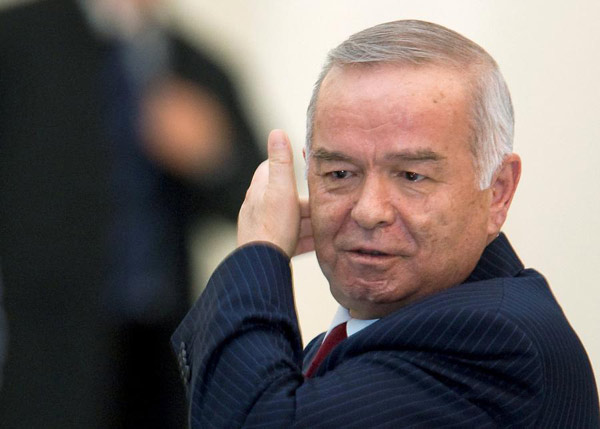 Uzbekistan's President Islam Karimov attends a summit in Almaty April 28, 2009. [Photo/Agencies]
Uzbek President Islam Karimov died Friday at the age of 78 after being hospitalized following a stroke on Aug. 27, the Uzbek government confirmed.
His funeral will be held on Saturday in the historic town of Samarkand, where he was born, a government statement said, adding that a three-day period of mourning would start on the same day.
Karimov, who had served as president of the newly independent republic since 1991, suffered a brain hemorrhage on Saturday.
On Sunday, the Uzbek government informed on its website that the late leader was taken to hospital for the need of a full medical examination.
On Monday, Karimov's daughter Lola Karimova-Tillyayeva, confirmed on her Facebook page that her father has been hospitalized and asked people to pray for his health.
Earlier on Friday, the government said on its website that the situation of Karimov had worsened and he was in a critical condition.
Born on Jan. 30, 1938 in a family of a civil servant, Karimov received higher education at the Central Asian Polytechnic Institute, and finally graduated from the Tashkent Institute of National Economy with a Ph.D degree in Economic Sciences.
In March, 1990, the Supreme Council of the Uzbek Soviet Socialist Republic elected Karimov President of the Uzbek Soviet Socialist Republic.
On Aug. 31, 1991, Karimov declared the independence of the Republic of Uzbekistan. At the general elections on Dec. 30 the same year, he was elected president of the Republic of Uzbekistan.
In March, 1995, in accordance with a national referendum, his tenure was extended to 2000. He was then re-elected the top leader of Uzbekistan in 2007 and 2015, respectively.
Karimov has two daughters and five grandchildren. He was regarded the initiator and leader of historic transformations in the country.
Under Karimov's leadership, Uzbekistan has kept a friendly relationship with China. During the visit of Chinese President Xi Jinping to Tashkent in June this year, the two leaders upgraded China-Uzbekistan ties to a comprehensive strategic partnership and outlined plans for a wide range of cooperation.
Karimov was a staunch supporter for the China-proposed Belt and Road Initiative. Beijing and Tashkent have been working together to seek synergy between their respective development strategies and fully tap into the potential of their over-all cooperation.