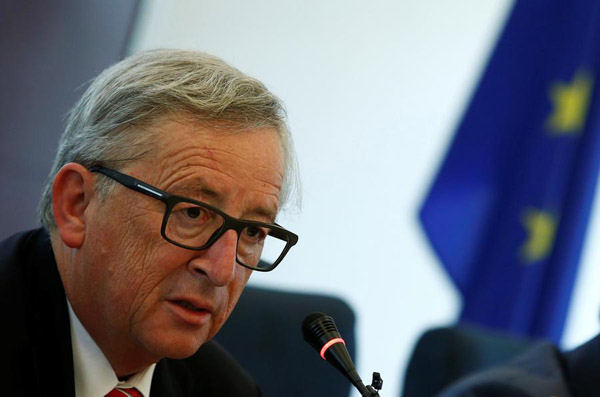 European Commission President Jean-Claude Juncker attends a news conference at the Delegation of the European Union to China in Beijing, July 13, 2016.  [Photo/Agencies]
The European Commission's top officials will on Wednesday debate the question of market economy status for China, which Beijing and its supporters say should be awarded to China in line with World Trade Organization accession rules by the end of this year.
The scheduled debate, which may lead to a EC position on the issue soon for member states and European Parliament to approve, is among two burning events involving China and the EU in recent days; the EU also is dealing with the unfolding aftermath of Britain's Brexit vote and terrorism attacks.
On Monday, the union's foreign ministers endorsed Brussels'new foreign policy strategy towards Beijing, which the observers said is "timely but not visionary."
Last Friday, Brussels declared that it would not take sides in the sovereignty issues in the South China Sea arbitration after the two sides held their annual summit in Beijing last week.
On the issue of market economy status, Commission President Jean-Claude Juncker underlined that the EU will stick to its international obligations and is producing an impact assessment looking at the consequences for each EU Member State.
"Only following this process, will the Commission take a decision. And as far as the market economy status for China is concerned, the Commission has not made up its mind," said Juncker in Beijing.
He hinted that there is a clear link between the steel over-capacity of China and the market economy status for China.
But Beijing has repeatedly said that Brussels should fulfil its commitment of obeying Article 15 of the WTO accession agreement with China.
Article 15 of the Accession Protocol of China's entry into the WTO says all WTO members should stop following country measures in anti-dumping cases against China by Dec 11, 2016.
Beijing has even said it is not a matter for further negotiations.
On Monday, the foreign ministers unveiled a nine-page statement on EU's new strategy on China, which European Commission made a communication paper last month.
The ministers agreed that both sides should finish investment talks before coming to free trade negotiations.
But Beijing said it is ready for free trade talks and some experts have even requested both sides to combine the two talks into one.
"Right now, it is for China to request but if EU will not respond urgently, China may ignore it when EU realizes such importance years later," said Chi Fulin, president of China Institute of Reform and Development, urging both sides to set a goal to finish such talks by 2020.
Chi also said that China and UK should prepare such combined trade talks while London prepares to negotiate to leave the EU.
The statement on the EU's strategy also covers investment, mega-project synergy, global cooperation and shared role in international affairs.
But it stated that EU's stance remained unchanged regarding to arms embargo against China.
After reading the documents, Tony Payne, director of the University of Sheffield's Political Economy Research Institute in UK, said the document is "timely but not visionary."
"It is timely coming 10 years after the last such strategy communication and lot has changed in the global political economy since then," said Payne.
He said it is good that it covers economic and security problems and was also honest in conceding that issues such as steel overcapacity are a problem in EU-China relations and accepting that they need to be addressed, not ignored.
"In my opinion, it is not visionary. But instead, it seeks to cover the oblivious issues, running from trade to investment, to migration and security," said Payne.
Payne said the European Commission hasn't set any overarching rationale for the EU and China coming together.
"Why is this important? Why is it important now? What values underpin the engagement?" he said.
"In other words, the substantial parts of the communication paper could have been framed eloquently and with effort."
Fredrik Erixon, Director of the Brussels-based European Centre for International Political Economy in Brussels, said it is an EU strategy document and its purpose is to build internal cohesion without making any commitment to specific policies.
"Even by that standard, it is a bland strategy. It's more concerned with immediate issues like steel over-capacity rather than ideas about what the EU wants to do with China," said Erixon.
Erxion suggested that it should first and foremost be focused at delivering results.
He said China and the EU should cooperate on several issues, including trade, science, energy and military affairs and it should set out areas of practical cooperation and build on them.
Erixon agreed the document is not visionary.
"It should set out a clear idea for what the EU wants to do with China over the next five years, but the fact that it does not indicates how deep the rift inside the EU is about China policy," said Erixon.
Contact the reporter at fujing@chinadaily.com.cn