Brexit not a impact on EU-China trade, says commissioner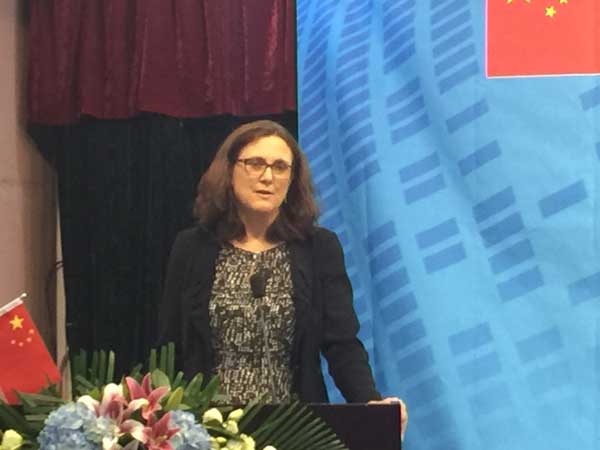 EU Trade Commissioner Cecilia Malmstrom giving a keynote speech in Beijing on July 11, 2016. [Photo by Ren Jie/chinadaily.com.cn]
The Brexit will not affect the trade relations between China and the European Union, said an official with the EU.
The EU's policies, priorities and day-to-day work are consistent after the Brexit vote, said EU Trade Commissioner Cecilia Malmstrom. That includes a close relationship with China. The EU remains committed to its economic and trade relationship with China, Malmstrom said while delivering a keynote speech to students at a university in Beijing on July 11.
Malmstrom said she fell sad about the result of the Brexit vote, but it was a democratic decision that must be respected. The UK has been a member of the EU for 43 years, and it is the first country that voted to leave the EU.
The UK has been a country always open to trade and international contacts, and this will not change, she said. She added that the EU will finally find a solution for the future and solve the problems.
Malmstrom was visiting China for the G20 Trade Ministers meeting in Shanghai as well as the EU-China Joint Committee on Trade with China's Commerce Minister Gao Hucheng. She will also attend the EU-China Summit in Beijing.