Prices dropped with the pound, and British fundamentals remain sound, but caution is counseled
When Naomi Heaton stepped into her office at 7 am on June 24, the day after Britain voted to leave the European Union, the first phone call she received was from a Chinese property buyer keen to take advantage of the pound's drop in value.
Heaton, chief executive of Central London Portfolio, an asset management firm specializing in prime locations in London's property market, says she thinks now is the best time to profit from the UK's property market. For a week after the referendum vote, Heaton says her office experienced the busiest time since the beginning of the year, receiving numerous investor inquiries, with a good proportion coming from China.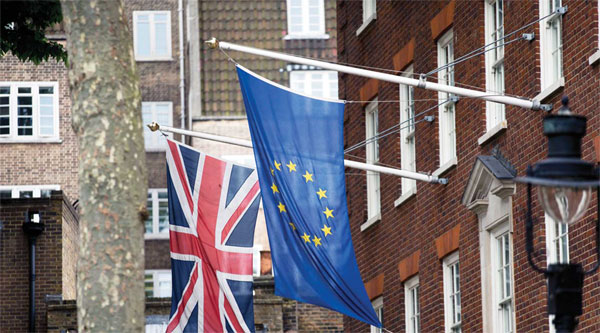 British property is touted to Chinese investors after Brexit fallout. Provided to China Daily
Like Heaton's company, many other British property agents quickly touted UK property market opportunities to Chinese investors after witnessing the pound's drop in value. The pound was down against all major world currencies on June 24, and at the end of the London trading day was down by nearly 9 percent against the dollar, marking one of the biggest one-day declines on record.
"Developers and estate agents have already developed the new marketing pitch. They point to Brexit as an opportunity for offshore buyers to snap up properties at bargain prices," says Bernie Morris, president of UK, Europe and Middle East for Juwai, a real-estate website based in Shanghai that allows Chinese buyers to browse residential and commercial properties around the world.
"If the fall in the pound persists and if local buyers continue to sit on their hands to some degree, that will create a more appealing environment for international investors. Chinese buyers are much more likely to take note of property prices, exchange rates, available inventory and economic conditions than the simple fact of Brexit," Morris says.
In recent years, Chinese investment in the UK's property market has grown rapidly. In the commercial property sector, statistics from agents Jones Lang LaSalle show that Chinese investors were the second-largest investor group in UK commercial property between the start of 2014 and the first quarter of 2016, with a total transaction value of $5.8 billion, just behind the United States.
London-based think tank the Centre for Economics and Business Research estimates Chinese investment in the UK property market will grow to 30.2 billion pounds ($40 billion; 36 billion euros) by 2025.
Some economists and insiders, however, have raised concerns that overall economic uncertainty in the UK may have a negative impact on long-term property prices, meaning it may not always be beneficial to buy into the market purely due to the favorable exchange rate.
"There have been conflicting signals in the market in the period post referendum, which suggests the impact of a vote to leave the EU will only become clear over coming months as the market finds its level," says Lucian Cook, head of UK residential research at Savills, a London-based property agent.
"It may look like a bargain now, but the pound may fall further," adds Michael Ball, a professor of urban and property economics at Henley Business School, University of Reading.
"Over the long term, Brexit is expected to reduce the level of investments in the UK, and the UK's long-term growth prospects. Consequently, property development companies in the UK have already seen their share prices drop sharply, and the new-build market is slowing down due to uncertainties."
Danae Kyriakopoulou, managing economist at the Centre for Economics and Business Research, is not optimistic about Chinese investment in the UK's property market for both the short and long term.
The current level of high economic uncertainty in the UK is likely to stifle Chinese investment in the short term, and economists' general lack of confidence in the UK economy over the long term is likely to lead to less investment by Chinese investors in the UK, she says.
"Many Chinese buyers choose London property for its investment potential, not to actually use it. This means that a decision to buy London property is also a vote of confidence that the UK economy will eventually strengthen. In light of present developments, this is far from the consensus view among economists," she says.
Despite the current property price volatility, Brexit will not have any impact on the fundamentals of the UK economy and the country's legal system, which are still attractive factors when Chinese investors examine the British property market, says Kim Vernau, CEO of BLP Insurance, which specializes in providing housing insurance.
"Strong liquidity, stable governance, transparency and clear title are all seen as critical requirements in the safe haven status that the UK has traditionally held. These fundamentals continue to remain in place, despite the uncertainty caused as a result of a Brexit vote," Vernau says.
Meanwhile, pessimistic long-term forecasts for the UK's economic growth also are making it hard for Chinese investors to obtain financing for new investments. On June 30, Singapore's United Overseas Bank suspended loan applications for London residential properties.
Ball says other Asian banks also may be very cautious about lending for UK properties, even though they have not said so publicly.
Economic analysis aside, Britain's vote to leave the EU also increases the risk of the UK government creating new restrictions for foreign property investors, Ball says.
"The Brexit vote has demonstrated that the British public has a strong sense of 'us'. For example, some members of the British public believe that foreigners' purchases of UK properties have made it hard for them to access properties, which is not true, but it nevertheless shows the public sentiment," he says.
The next British prime minister could decide to implement more restrictive foreign property taxes, such as property purchase taxes, or property holding taxes, for foreign buyers, he adds.
cecily.liu@mail.chinadailyuk.com