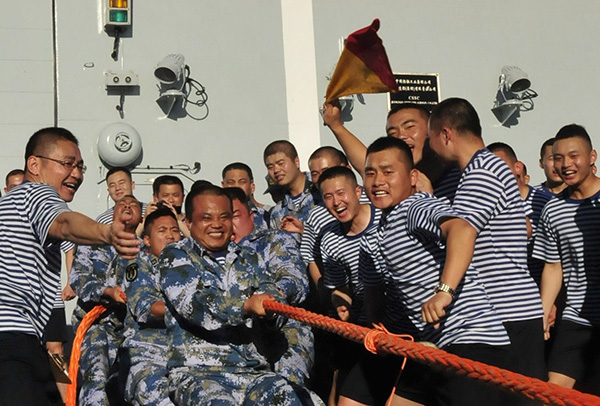 Soldiers take part in a tug-of-war on the deck of the destroyer Xi'an, one of five Chinese ships that will join naval exercises with the United States and 24 other countries. Huang Yifang / Xinhua
The People's Liberation Army Navy fleet is scheduled to sail into Pearl Harbor on Wednesday to participate in the Rim of the Pacific naval exercises, known as RIMPAC 2016.
China's involvement, the second since 2014, reflects the stable and healthy development of military ties between China and the United States, despite the growing tensions in the South China Sea, experts said.
The Chinese fleet consists of five ships - the missile destroyer Xi'an, the missile frigate Hengshui, the supply ship Gaoyouhu, the hospital ship Peace Ark and the submarine rescue vessel Changdao. Three helicopters, a marine squad and a diving squad, as well as 1,200 officers and soldiers, also will participate.
The Chinese task force members left Zhoushan, Zhejiang province, on June 15. They were joined in the western Pacific on June 18 by the US guided-missile destroyers Stockdale and William P. Lawrence in a "group sail" to Hawaii.
The group sail gives the ships' crews a chance to operate together and conduct basic training, such as tactical maneuvering drills and communication system checks, before the more complex RIMPAC exercises begin, according to the US military newspaper Stars and Stripes.
RIMPAC 2016, which has the theme of "Capable, Adaptive, Partners", will be held from Thursday to Aug 4. The PLA Navy will take part in drills including gunfire, damage control and rescue, anti-piracy, search and rescue, and diving and submarine rescue. Chinese officers and soldiers also will participate in a range of sporting events with personnel from the US and other countries.
It is the second time China is participating in the biennial RIMPAC.
In 2014, it sent a fleet of four ships with about 1,100 personnel. The Chinese contingent this time is said to be the third largest among the 26 participating countries, trailing only the US and Canada.
Jonathan Pollack, a senior fellow at the John L. Thornton China Center of Brookings Institution, said: "It's good that China is going. This may cause some unease for some Americans who are very skeptical about China, but China is as much a stakeholder in the Asia-Pacific security environment as anybody else."
Fan Jishe, a US studies researcher at the Chinese Academy of Social Sciences, said the RIMPAC exercises will help China and the US to develop a healthy bilateral relationship and control their differences in other areas.
Remarkable progress has been achieved in the two countries' military relationship in recent years, even though tensions are growing in the South China Sea, he said. "It is very necessary for both sides to continue the positive momentum in military exchanges," Fan said.
Contact the writer at mojingxi@chinadaily.com.cn