UK changes visa policy to attract top students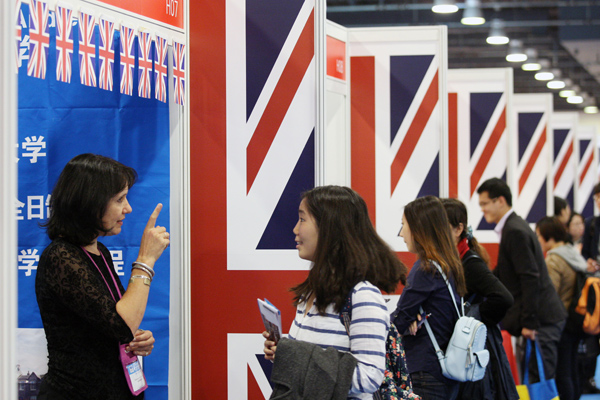 A British consultant talks with a visitor over the weekend at the 2015 China Education Expo in Beijing. WANG ZHUANGFEI/ CHINA DAILY
There's good news for Chinese students in the UK. The British government has issued a new visa policy that allows foreign students to stay six months more after their course ends. They will not have to submit proof of funds or education background certification.
A spokesman of UK Home Office said that the new plan, which was officially launched on July 25, will attract more students and at the same time allow buffer time for them to apply for work visa (Tier 2 visa). The new rules apply only to students of some elite universities. The government will monitor the situation in real-time to assess the changes.
The new plan is aimed at overseas student visa (Tier 4 visa). According to the new policy, students will have a six-month extended visa period on the course duration basis, two months longer than earlier. However, this plan only applies to graduate students admitted to Cambridge University, Oxford University, Imperial College and University of Bath. Also the course duration shouldn't last for more than 13 months (pre-sessional language courses excluded).
Besides, no fund or education background certification will be required, although Cambridge has asked students to prepare all these necessary papers to avoid rejection.
This is the first time ever in the past four years that the UK government has eased overseas student visa policy as new PM Theresa May shifted her tightened policy on migrants as Home Secretary.
Long before May took office, immigration policy had become a nightmare for Chinese students and immigrants. May called off PSW visa in 2012, which allowed two more years for the graduates to stay in UK without any work visa. She also tried to cancel the four-month extended visa period for overseas students, claiming that the grace period was not needed. The plan was shelved after then-finance minister George Osborne intervened.
In general, visa policy of UK regulates three kinds of visa types: visitor visa, work visa and student visa. Work visas include Tier 1 visa (for entrepreneur), Tier 2 visa (for general worker) and Tier 5 visa (for temporary worker). Student visa is Tier 4 visa.