UK to issue two-year multiple entry visa to Chinese travelers
By Chen Yingqun ( chinadaily.com.cn )
Updated: 2016-01-07 08:41:28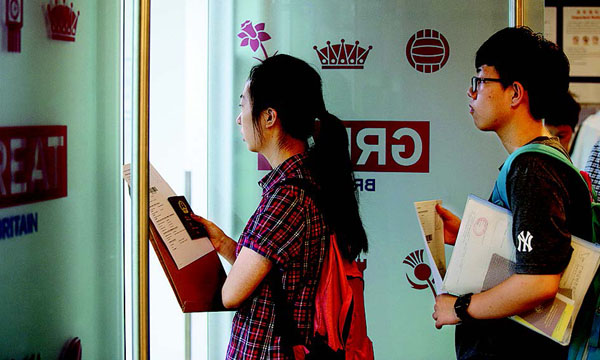 Applicants for visas wait in line at the British visa center in Beijing.[Photo by Wang Jing/China Daily]
Chinese travelers will be issued a two-year multiple entry visa by the British government under a pilot scheme from Jan 11, 2016.
According to the announcement, travelers applying in Chinese mainland for a six-month standard visit visa will be eligible for a two-year multiple entry visit visa at the same price of £85 (815 yuan).
The government of China will make the same offer available to British citizens.
The new arrangement provides Chinese passengers with a better deal than the standard Schengen visitor visa, which is limited to a maximum 90 days.
Next week's launch follows British Prime Minister David Cameron's announcement of the scheme during the state visit of President Xi Jinping to the UK in October 2015.
The two-year visitor visa will be available for tourism, business or to attend conferences.
Applicants will still need to undergo the same checks before a visa is granted, with Chinese visitors required to submit an online application and biometrics.
The new visa arrangements will be more convenient as there is also a plan to extend the UK's mobile fingerprinting service, which captures the biometrics needed for applications, from nine to 50 Chinese cities.

We will not give up search, Li vows
International hunt for missing airliner continues after fruitless six-day search