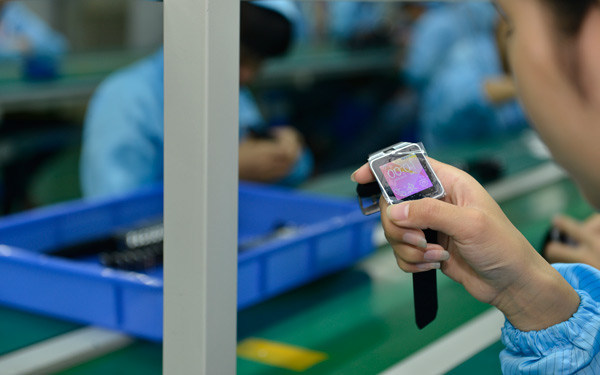 A technician inspects a smartwatch at a workshop of Shenzhen Hopu Smart Technology Co Ltd in Shenzhen, Guangdong province. [Photo/Provided to China Daily]
LAS VEGAS, United States -- 2016 could be another rough year for the consumer technology industry.
Global sales of consumer tech products are projected to drop two percent to $950 billion this year, following an eight percent decline in 2015, according to an industry report released by the Consumer Technology Association (CTA).
The CTA is the organizer of the world's largest consumer tech tradeshow, the Consumer Electronics Show (CES), which officially runs from Wednesday through Saturday in Las Vegas.
One main reason for the fall is the strong US dollar, which is unfavorable to conversion of global currencies, said Steve Koenig, senior director of industry analysis for the CTA, at a press conference on the eve of CES 2016.
Another main reason is a slowdown in China's economy, which is transitioning from export and manufacturing to consumption and services, he said.
"Because China is such a large country, its economy is big, even a small decrease could have a massive impact," said Koenig.
Other factors included falling average selling prices of many tech items such as smartphones, TV and laptops as well as moderate or negative growth in the sales of TV, smartphones and laptops globally.
Koenig described smartphones, tablets and mobile PCs as consumer tech's triumvirate, which could account for 58 percent of worldwide spending on consumer tech products in 2016.
Growth in the sales of smartphones this year is expected to dip into the single-digit for the first time -- just eight percent, which Koenig deemed as a "new normal" for the future.
Meanwhile, the number of tablets and laptops sold in 2016 could fall eight percent and three percent, respectively.
In contrast, new or nascent categories of consumer tech products, such as wearables, virtual reality (VR), drones and 3D printing, are basically good news. Sales of wearables, including smartwatches and fitness trackers, are expected to grow about 59 percent this year to 25 billion dollars.
In the United States alone, the number of drones, VR and 3D Printing sold this year could grow 149 percent to 2.8 million units, 500 percent to 1.2 million units and 64 percent to 179,000 units, respectively.
"We are at a time when new tech categories can come out of seemingly nowhere and lead to disruption in the blink of an eye," Shawn DuBravac, chief economist and senior director of research for the CTA, added in a statement.