Ministry of Commerce officials expect to conclude negotiations on the Regional Comprehensive Economic Partnership this year, as well as restart free trade agreement talks with the Gulf Cooperation Council, and finalize a feasibility study into a trade arrangement with Israel.
Final discussions on a free trade agreement between China, South Korea and Japan, and proposed FTAs with Sri Lanka and the Maldives and other countries along the Belt and Road Initiative, will also be accelerated, said ministry spokesman Shen Danyang on Wednesday.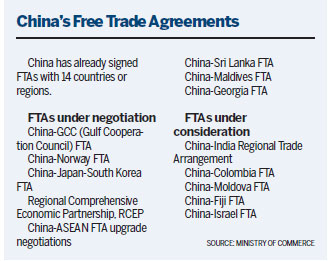 The Belt and Road includes the Silk Road Economic Belt and the 21st Century Maritime Silk Road, and covers about 4.4 billion people in more than 60 countries and regions.
Shen said talks on the planned RCEP - a proposed agreement between 10 member states of the Association of Southeast Asian Nations - are making strong headway, with breakthroughs made in seven areas last year including intellectual property rights protection, legal mechanism and competition policies.
Trade between China and ASEAN reached $224.38 billion in the first half of 2015, a 1.6 percent annual increase, and ASEAN officials have targeted trade with China to be worth $500 billion by the end of this year and $1 trillion by 2020, with two-way investment levels of $150 billion by 2020.
The GCC is a political and economic union of six Arab states that border the Persian Gulf: Bahrain, Kuwait, Oman, Qatar, Saudi Arabia and the United Arab Emirates, some of the world's top oil-exporting nations.
"The GCC has also been keen to support the Belt and Road, saying the establishment of a free trade agreement would strengthen multilateral cooperation on agriculture, energy, tourism and culture," said Shen.
Zhou Liujun, director-general of the ministry's department of outward investment and economic cooperation, said GCC countries consider China a major market for petrochemical products, and a FTA would assist those nations in their industrial development.
"The two sides are expected to discuss key FTA issues such as goods trade conditions, rules of origin, technical barriers to trade, and economic and technological cooperation," said Zhou.
China and the GCC first announced the launch of FTA negotiations in 2004. The two parties have held five rounds of talks and reached agreement on the majority of issues concerning the movement of goods. Negotiations on the services industry are also underway.
The ministry has already concluded a feasibility study on launching FTA talks with Israel after relations between the two nations have deepened across a variety of sectors.