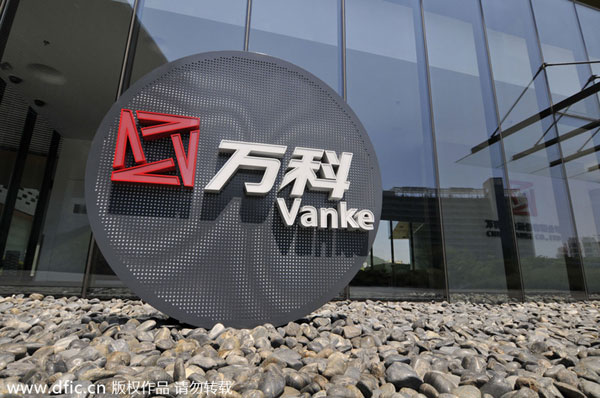 View of the headquarters of China Vanke Co Ltd in Shenzhen city, South China's Guangdong province. [Photo/IC]
Property group China Vanke Co Ltd's shares fell by as much as 11.35 percent during intraday trading at the Hong Kong Stock Exchange.
Trading in the company's shares resumed on Wednesday in Kong Kong after a three-week suspension and the share closed down 9.17 percent at HK$20.80 ($2.68).
The Chinese real estate giant said in a filing on Tuesday that it was resuming trading of its H shares on the Hong Kong bourse, but would keep its shares in the Shenzhen bourse suspended for the time being.
Vanke, which has been fighting a hostile takeover from its largest shareholder, said: "The possible asset restructuring contemplated by the company is complex, and Vanke and its relevant parties are still in the process of negotiating its terms.
"The possible asset restructuring may or may not proceed, subject to conditions, regulatory approvals and shareholders' approval. In the meantime, the company reminds shareholders and investors to exercise caution when dealing in the company's securities," said the filing.
The company said it has called for a board meeting on or before Jan 18 to discuss the asset restructuring plan, within the stipulated 30-day period from the date of the trading suspension of its A shares.
Shares in the country's largest residential developer were suspended on Dec 18, after it said it was planning to issue new shares for capital restructuring and asset acquisition.
The decision was made after Wang Shi, Vanke's chairman, openly opposed Baoneng Group's acquisition of Vanke's shares, which made the latter the company's biggest shareholder.
Shenzhen-based privately held conglomerate Baoneng has built up a stake of more than 20 percent in Vanke's Shenzhen and Hong Kong traded shares, overtaking State-owned China Resources (Holdings) Co Ltd to become Vanke's largest shareholder after the acquisition.
Wang said the move could ruin the company's brand and Vanke's management does not welcome Baoneng as the biggest shareholder due to lack of credit.
Vanke's contract sales last year was about 261.5 billion yuan ($39.92 billion), a year-on-year growth of 21.54 percent. The total sales area in the past year reached 20.67 million square meters, up 14.43 percent from a year earlier.