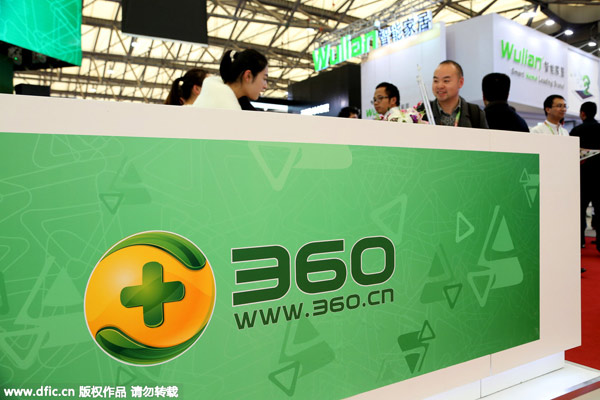 People visit the stand of Qihoo 360 during the 2015 Appliance and Electronics World Expo in Shanghai, Mar 13, 2015.[Photo/IC]
Another leading Chinese Internet company has joined the highly competitive crowdfunding sector, close on the heels of e-commerce giants JD.com Inc and Alibaba Group Holding Ltd.
Qihoo 360 Technology Co Ltd, the Internet security company, said on Tuesday that its equity crowdfunding platform t.360.cn raised more than 10 million yuan ($1.53 million) from 200 investors a day after launching its first crowdfunding project on Dec 29.
Zeng Chunqiang, CEO of t.360.cn, said the platform will focus on quality, early-stage projects before the first round of financing.
"Startup companies will usually wait for six months or a year before the first round of financing after they receive funding from angel investors. But the ones that develop well will need a larger amount of investment for business expansion, about five months after the angel investment.
"We'll help those companies raise money via t.360.cn and inject the money to them as quickly as possible, rather than spending three to five months negotiating with them like most venture-capital firms," he said.
This will significantly improve the efficiency of financing, he said. The investors' money will later be converted to equities after the early-stage businesses receive a new round of financing from venture-capital firms.
The platform will target middle-class investors who can take relatively high risks. It expects a typical equity crowdfunding project involving around 100 investors, each contributing a minimum of 30,000 yuan to 50,000 yuan.
Fang Xinghai, vice-chairman of the China Securities Regulatory Commission, said on Dec 25 that China will launch a pilot program on equity crowdfunding in 2016 and proceed step by step. Analysts expect the country to see a flurry of crowdfunding deals this year with equity crowdfunding likely to see a particularly fast growth.
A report published by wangdaizhijia.com, a Web portal that tracks the Internet finance industry said about 249 crowdfunding platforms were operating across 21 provinces as of the end of November.
During the month, about 8 million investors participated in crowdfunding, up 95 percent from the levels seen in October. The money raised was 1.08 billion yuan in November, up 33 percent from 814 million yuan a month earlier.
Of the 4,619 new projects in November, only 6 percent was equity crowdfunding, while the majority (77 percent) was reward-based crowdfunding, which offers rewards or perks to the crowd who contributed small amounts of capital to fund a project. Another 17 percent was good cause crowdfunding.
Several large Internet companies have launched their own crowdfunding sites. Alibaba's financial services affiliate launched a trial version of its crowdfunding platform in November.