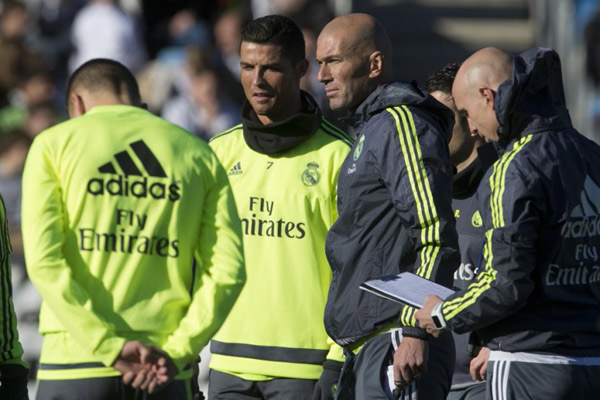 Real Madrid's newly appointed coach Zinedine Zidane, 3rd right stands next to Cristiano Ronaldo, 2nd left during his first training session in Madrid, Spain, Tuesday Jan. 5, 2016.  [Photo/Agencies]
MADRID -- Zinedine Zidane promises to make up for his lack of coaching experience by inspiring Real Madrid to play with the same attacking flair he displayed during his playing career.
"Football with a personal touch, with attacking play, is what I'll aim for," the France great said at a news conference on Tuesday, a day after replacing the fired Rafa Benitez as Madrid coach.
"A coach is never really prepared, least of all one who hasn't coached before. But I am motivated, excited, and that is going to ensure that things go well. I always believe that it's important to play attractive, but balanced football, and I am going to work to get that on the pitch."
The 43-year-old Zidane, a three-time world player of the year and former Real Madrid star, coached Real Madrid's reserve team in Spain's third division for the past year and a half. He agreed to the promotion to coach the first team for the rest of this season, plus two more years.
Zidane's first game as coach will be on Saturday against Deportivo La Coruna in the Spanish league. Madrid trails leader Atletico Madrid by four points, and is two points behind defending champion Barcelona, which has a game in hand.
Zidane previously served as assistant to Madrid coaches Jose Mourinho and Carlo Ancelotti. He served under Ancelotti during the Champions League title run in 2014, and he knows most of the current squad.
Zidane said he would continue to play star forwards Cristiano Ronaldo, Karim Benzema and Gareth Bale, although he said Bale was not happy with Benitez's firing.
"I understand Gareth may be upset at Rafa's departure, but he will be treated with affection. He's a fundamental player," Zidane said.
The club said more than 6,000 fans turned out to watch Zidane take charge during Madrid's traditional open first practice of the year.
Zidane was named manager on Monday when Benitez was fired midway through his first season. Many Madrid fans and the local media were left lukewarm by Benitez's more defensive approach, exemplified by his conservative substitutions, such as removing Benzema on Sunday in the 2-2 draw at Valencia.