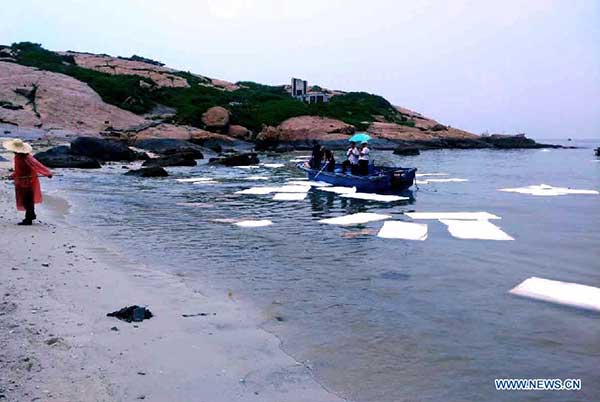 Decontamination team try to clean up the sea which is polluted by heavy oil on the Miaowan Island in Zhuhai, South China's Guangdong province, Aug 26, 2015.[Photo/Xinhua]
Prosecuting departments have filed five public-interest lawsuits involving environmental pollution with the courts since July as part of a national pilot program aimed at protecting public resources.
In July, the Supreme People's Procuratorate launched a two-year pilot program in 13 provinces and regions, including Beijing, Shandong, Guangdong and the Inner Mongolia autonomous region to handle such litigation, SPP spokeswoman Xiao Wei said at a news briefing on Thursday.
"At present, the courts have accepted the five cases and are investigating," she said.
Public-interest litigation mainly refers to lawsuits related to ecology, protection of State-owned assets, transferring State-owned land-use rights and food and drug safety.
According to Zheng Xinjian, director at the SPP's procuratorial department for civil and administrative cases, prosecuting departments in the pilot areas will proceed using information reported by the public or by conducting active investigations.
"We will investigate and verify the facts of a case and visit the sites to obtain evidences," he said. "Then we will issue suggestions for the administrative departments to correct their mistakes or supervise them in the performance of their duty."
For example, in an environmental pollution case, the prosecuting department would suggest that local environmental protection bureaus deal with the pollution in a timely manner; order them to administratively punish the polluting industries or individuals through fines or administrative detention, or suggest close supervision of the industries to implement corrective measures, he said.
"If the administrative authorities refuse to correct the mistakes or to perform their duty, which still harms the public interest, the prosecuting departments will sue in local courts for judicial action," he said.
In a typical case, the Qingyun county people's procuratorate in Shandong province sued the local environmental protection department in December for failing to perform the supervision duties.
In November, the prosecuting department found that a local sewage disposal plant failed an environmental protection check and illegally discharged a large amount of wastewater, polluting the environment for long time. Members of the public frequently called a hotline to report the violation to the local government.
Prosecutors found that the local environmental protection department failed to conduct proper supervision and urged it to follow the law, but said the environmental protection department failed to follow through. The public continued to complain about heavy pollution.
In December, prosecutors filed the administrative lawsuit with the court.
Figures provided by the SPP show that, between July 1 and Dec 31, the pilot prosecuting departments followed 501 public-interest litigation clues, resulting in 383 administrative cases and 118 civil cases.
There were 313 public-interest lawsuits involving environmental and resources protection, 118 cases on transferring State-owned land use rights, 59 cases dealing with protection of State-owned assets and 11 cases for food and drug safety.