China delivers warship to Algeria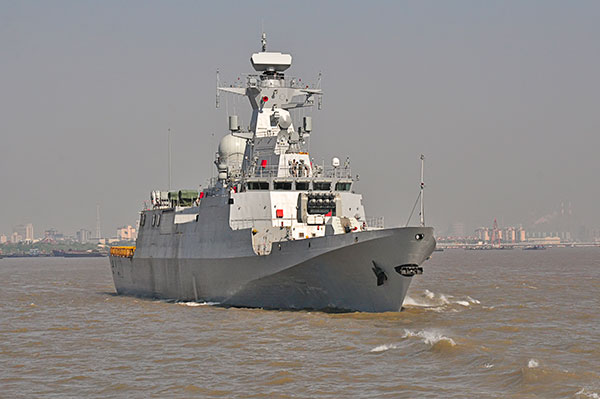 A C28A-class corvette
China delivered a stealth corvette to the Algerian Navy last week, marking a new high in the nation's export of military ships.
The C28A-class guided missile corvette was commissioned by the Algerian Navy on July 12 at a port of Hudong-Zhonghua Shipbuilding Group in Shanghai, becoming the third of its kind in the African country's Navy.
The C28A-class corvette represents the highest technological level of China's export warship, China Ship News reported, quoting shipbuilding sources as saying it has the best combat capability and is very competitive on the international market.
With a displacement of 3,000 metric tons, the 120-meter-long corvette can conduct offshore defense operations and long-distance combat tasks. It is larger than previous warships China has sold to foreign nations, has new equipment, a stealth design and a higher level of automation, sources told the newspaper.
It has a cruise speed of about 30 km/h and an operational range of nearly 10,000 km, according to the report.
The C28A-class corvette, was designed by the Marine Design and Research Institute under China State Shipbuilding Corp. In 2011, it defeated 10 competitors from eight countries for the Algerian Navy contract for three corvettes. The first C28A was delivered in September 2015 and the second this January.
Wu Qiang, general manager of China State Shipbuilding Corp, the parent company of the Hudong-Zhonghua, told China National Radio at the commissioning ceremony that the ship is a symbol of China's achievement.
"In the past, naval ships we sold to other countries mostly used foreign-developed weapons, but all of the weapons and radar installed on three C28As, including anti-ship and anti-aircraft missiles, torpedoes and naval guns, are domestically developed," he said. "The results of these C28A ships' tests are very satisfactory, and our clients are happy with their performance."
Ren Yi, chief designer of the C28A, was quoted by China Central Television as saying that the ship can perform reconnaissance, aircraft and missile defense, anti-ship and anti-submarine operations, as well as maritime humanitarian missions.
Gao Zhuo, a military observer in Beijing, told China Daily that China's new-generation naval vessels are reliable, have outstanding combat capabilities and are attractive in terms of price and operational costs, making them good choices for developing nations.
zhaolei@chinadaily.com.cn