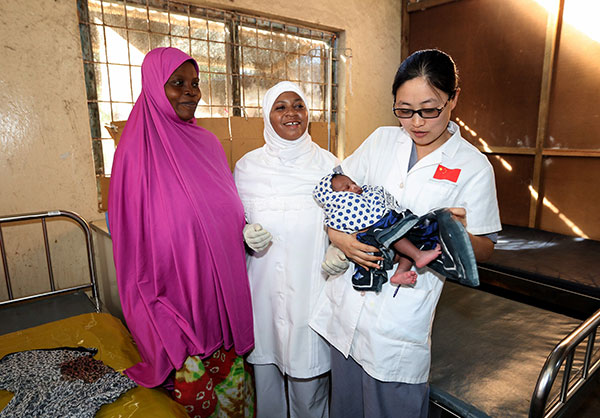 Chinese medical worker Yu Chunqing from Wuxi, Jiangsu province, checks a newborn baby in the China-funded hospital in Zanzibar, Tanzania. ZHOU XIAOXIONG/XINHUA

The final touches are being made to a new hospital in Zanzibar with Chinese government investment of more than 100 million yuan ($15 million).
The Abdulla Mzee Hospital in Pemba is due to open in September.
The facility has been built on the site of a hospital that was also funded by the Chinese government in 1970. The new hospital has 160 beds, compared with 61 at the old one.
Covering 8,000 square meters, it has an emergency building, office building and a building for patients.
Zhao Xin, who heads a nine-member Chinese medical team working in Pemba, said that during the construction period the hospital had rented the warehouse of a clove trading company as its temporary base.
"Conditions here are unbelievably harsh," Zhao said, adding that the old hospital did not have anesthesia equipment.
In 1964, the Chinese government sent its first medical team to provide services in Zanzibar. Since then, China has sent 26 medical teams, all from Jiangsu province.
The current team has been assembled from hospitals in Wuxi. Apart from Zhao's team, another 12 members are stationed at Mnazi Mmoja Hospital, the largest public hospital in Zanzibar.
Zhao said the teams face frequent power failures. When these occur during operations, doctors have to use emergency lighting and pump oxygen manually.
Despite the conditions, Chinese medical workers have been praised by local patients.
Nurse Idrisa Salim said: "They are kind to the patients and they are extremely good. Local patients will come to this hospital especially for the Chinese doctors."
Zhao said the Chinese medical teams have been sent not only to treat local patients, but also to help train a permanent medical team.
Juma Malik Akil, principal secretary at the Zanzibar Ministry of Health, said, "The Chinese medical team not only helps to cure people, but also passes on experience and skills to local doctors."
Since 2009, the Jiangsu government has donated 5.5 million yuan to set up five medical centers in Zanzibar.