Chinese retailers offer significant discounts for British goods on the web as sterling hits record lows, which is a silver lining for some UK firms
Online retailers in China launched Brexit-themed marketing campaigns in the wake of the UK's European Union referendum, offering a slew of cut-price deals on British and European goods as the sterling continued to weaken, hitting a low of more than 31 years against the US dollar by July 6.
"Brexit low prices are coming, come grab vouchers worth 1 million yuan in total," reads the banner across Tmall's webpage dedicated to UK goods. Slashing prices by as much as 60 percent, the Chinese online retail giant is advertising reduced "Brexit prices" on dozens of British products.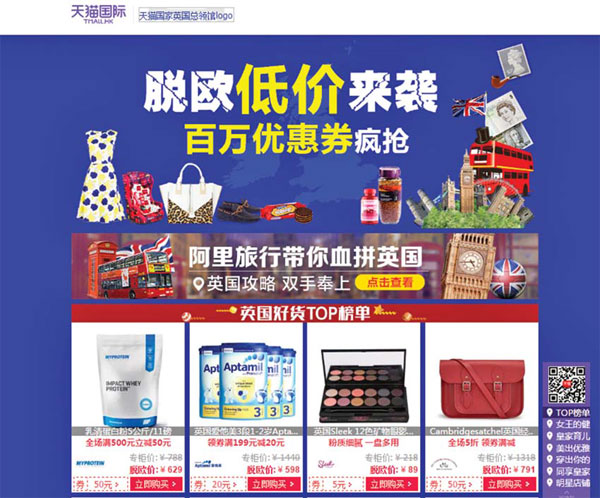 A screen shot of Tmall's webpage, with the banner saying "Brexit low prices are coming, come grab vouchers worth 1 million yuan in total". Provided to China Daily
Tmall cut the price of McVitie's Hobnob biscuits, for example, by 39 percent, and marked down soft toys from London toymaker Jellycat by 8 percent. The retailer also lowered the price of some leather goods from the Cambridge Satchel by 40 percent. In a similar marketing campaign, Chinese online retailer Ozsp alluded to changing exchange rates as it offered consumers cut-price European products.
Britain's vote to leave the EU immediately weakened the pound and wiped $2 trillion from world markets in 24 hours. On the morning of June 24, the day after the vote, the pound fell from a pre-referendum rate of $1.50 against the US dollar to $1.33. The currency briefly rallied, though on July 6 it sank to $1.28 in Asian trading against the dollar.
The result of the EU referendum and its effect on exchange rates could be a boost for some companies, according to Chinese online retail giant JD.com.
"Brexit has been a challenging event for Britain, but the increased importance of the UK-China trading relationship offers somewhat of a silver lining for British brands," a company spokesperson told China Daily.
On July 1, Bank of America's wealth management division Merrill Lynch upgraded Burberry to a "buy" rating, forecasting the British luxury fashion house's annual profit will increase by 97 million pounds ($125.6 million; 113.2 million euros). Bargain hunters can now buy the company's sought after trench coats, for example, for around 10 percent less.
With online retail sites like Tmall launching cross-border sites, Chinese internet consumers can now buy directly from foreign retailers. Reaching $630 billion of sales in 2015, China's online retail market is far and away the world's largest, and according to consultancy firm McKinsey, cross-border consumer e-commerce reached $40 billion last year and is growing at 50 percent annually.
Quality imported goods from the UK are increasingly popular among Chinese online shoppers.
Royal Mail says China is now the biggest overseas consumer of British products online, accounting for 25 percent of overseas shoppers purchasing goods from the UK.
In 2015, the British postal service entered into China's e-commerce boom by forming a partnership with Alibaba's Tmall Global e-marketplace, offering China's about 300 million online shoppers access to British products.
McKinsey reports that rising disposable incomes and a desire to avoid locally available counterfeit goods are among the main drivers in China's booming e-commerce cross-border market.
The firm says that despite lower average incomes, consumers in small and mid-sized cities spend almost as much online as those in larger cities, and that apparel, recreation and education goods and household products are the three dominant online retail segments.
angus@mail.chinadailyuk.com