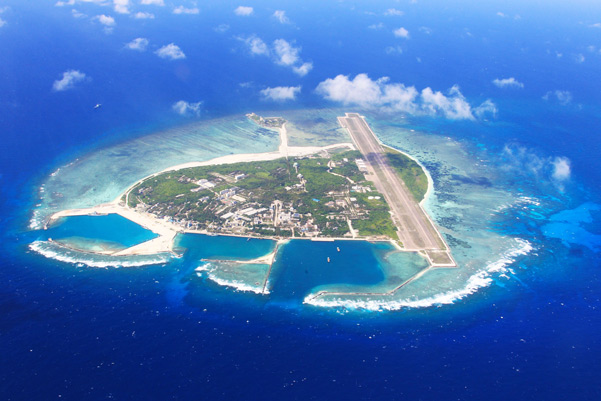 Yongxing Island is home to the government of Sansha, China's southernmost city. [Photo/Xinhua]
THE HAGUE - The tribunal handling the South China Sea arbitration case unilaterally initiated by the former Philippine government issued its final award on Tuesday, amid a global chorus that as the panel has no jurisdiction, its decision is naturally null and void.
In a press release accompanying the 479-page award, the five-member tribunal offered a summary of its decisions, which sweepingly side with the claims filed by the administration of former Philippine President Benigno S. Aquino III.
China has refused to participate in the proceedings, reiterating that the tribunal has no jurisdiction over the case, which is in essence related to territorial sovereignty and maritime delimitation.
"The Ministry of Foreign Affairs of the People's Republic of China solemnly declares that the award is null and void and has no binding force. China neither accepts nor recognizes it," the ministry said in a statement shortly after the publication of the award.
More than 60 countries and international organizations, as well as over 130 foreign political parties and groups, have voiced support for China's principled position, far outnumbering those backing the assertions of the Aquino administration and the United States, which is widely considered as a primary instigator behind the arbitration case.
In an interview with China Daily prior to the tribunal's ruling on the South China Sea today, Peter van Tuijl, Executive Director of The Hague-based Secretariat of the Global Partnership for the Prevention of Armed Conflict (GPPAC) Foundation, urged both sides to resort to peaceful talks to solve the dispute as the verdict of the tribunal, according to China, is invalid.
He also said that the civil society in China and Southeast Asia will play a bigger role in boosting mutual understanding, which can help settle the dispute at the governmental level.