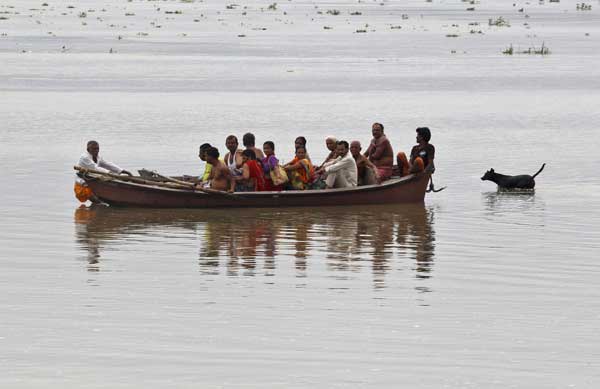 A man pulls a boat carrying devotees on the flooded banks of the river Ganges after heavy rains in Allahabad, India, July 5, 2016. [Photo/Agencies]
NEW DELHI -- Flooding in India's northeastern state of Assam has affected over 80,000 people, officials said Tuesday.
The flood waters affected 187 villages in four districts of the state - Lakhimpur, Dhemaji, Nagaon and Jorhat - east of Dispur, the capital city of Assam.
"Over 68,000 people have been affected in worst-hit Lakhimpur district alone," and official said. "More than 4,000 people have been affected in Majuli island in Jorhat district."
Eyewitnesses said several hundred families have left their homes in the affected areas to take shelter on highlands and roads.
The state's disaster management authority has issued flood alert in parts of Jorhat, Nagaon, Golaghat and Barpeta districts for the next 24 hours.
The surging waters have damaged crop land and disrupted road connectivity in many areas. Reports said six makeshift bamboo bridges were washed away in Jorhat district and several wooden bridges rendered weak.
Officials said the major portion of Pobitara wildlife sanctuary in Morigaon district have been inundated.