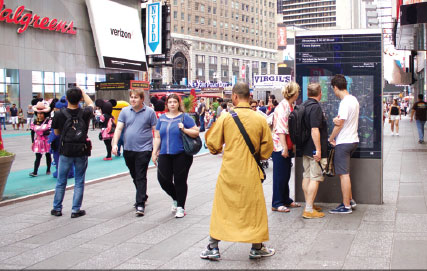 A man wearing a monk's robe offers up Buddhist materials in Times Square on Tuesday. It could not be determined whether he was ordained or not. Note the teal "designated activity zone" at left. NIU YUE / FOR CHINA DAILY
That smiling man in the rust-colored robe handing you a medallion may not be upholding the precepts of the Buddha.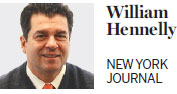 Ersatz Buddhist monks belong to the legions of costumed panhandlers who populate the bustling streets of New York City.
While solicitous "monks" have been around for years, they now will have to deal with New York City's recent reconfiguration of Times Square.
The teeming Manhattan crossroads has been redrawn into boxes aimed at keeping pedestrian traffic moving and to regulate street performers and costumed characters, such as Sponge Bob Square Pants, Elmo, Minnie Mouse, Woody from Toy Story and myriad Spider-Men.
The push for the rules heated up last summer because of the commotion caused by the desnudas (nude in Spanish), or women who are practically naked, save for body paint and sequined bikini bottoms.
Their high-heeled parading apparently offended the sensibilities of some tourists, while pleasing many others. Spider-Men exchanging punches also played a role, too.
The changes went into effect on June 21, as a way to control solicitation by the characters, some of whom are a bit more surly than the cartoon heroes they represent.
There are eight designated rectangles between 42nd and 47th streets that measure 8 feet by 50 feet. The teal boundaries, which the city has dubbed "designated activity zones", apply to anyone who is performing a service in which money is exchanged, whether it's costumed characters posing for pictures for tips or vendors selling tickets to comedy shows or bus tours.
Those stepping over the line, so to speak, could face arrest and a $500 fine or even jail time. It's too soon to tell how strictly the rule will be enforced, but some "characters" have vociferously objected, saying it is costing them money.
It appears that the monks won't be afforded any religious exemption; I contacted the city's press office just in case, but haven't heard back.
The "monks" are pretty mobile anyway.
"There were many fake monks in Chinatown," the Rev TK Nakagaki, president of the Buddhist Council of New York, told China Daily. Nakagaki said "they disappear" when people catch on to them. "Then they appear in other parts of New York.
"It's very disrespectful for the Buddhist people," he said. "They take advantage of the tradition that we have. This is happening more and more, not only in New York, but across the US and different countries."
Although Nakagaki doesn't like the situation, he has a good sense of humor about it.
"They should be the real monks, not the fake monks," he said with a chuckle.
When I strolled through Times Square on Monday evening, I saw two women dressed in tai chi-style jackets and sun hats. They both were carrying flimsy-looking gold medallions that they thrust half-heartedly at a select tourist or two as they headed west.
Later Monday on the Channel 5 news in New York, a reporter confronted a "monk" about his legitimacy, and the monk took off running.
Along the High Line, a former railroad section in Manhattan converted into a popular park, a robed man handed a gold-colored medallion and a plastic bracelet to a couple. He then showed them photos of a planned "temple" and shouted, "Ten dollars! Twenty dollars!" When they wouldn't pony up, he grabbed the trinkets back, The Associated Press reported.
Nakagaki is quoted on a sign on the High Line, which informs people that Buddhists are not pushy salesmen.
"While authentic monks traditionally carry a beggar's bowl to receive gifts of food or money, they would not aggressively ask for cash," the sign says.
That same sign also features a less diplomatic quote from the New York Post in 2015: "Fake Buddhist monks are the new squeegee men of New York."
Niu Yue in New York contributed to this story.
Contact the writer at williamhennelly@chinadailyusa.com