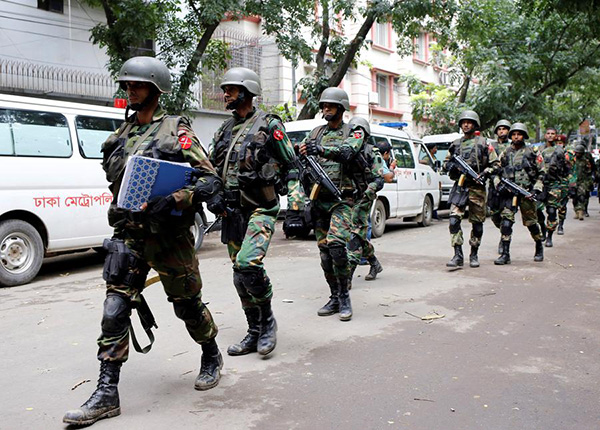 Army soldiers patrol near the Holey Artisan restaurant after gunmen attacked the upscale cafe, in Dhaka, Bangladesh, July 2, 2016. [Photo/Agencies]
DHAKA - Nine Italians, seven Japanese, two Bangladeshis, a Bangladeshi-born US citizen and an Indian female were killed in the attack on a Spanish restaurant in Bangladesh capital Dhaka popular with foreigners.
An official at the Bangladesh Army's Inter Service Public Relations (ISPR) confirmed the nationalities of the victims to Xinhua on late Saturday.
He said Nine Italians, seven Japanese, two Bangladeshis, an Indian and a Bangladeshi-born US citizen were among the 20 people hacked to death by the terrorists who burst into the restaurant on Friday night.
The official who preferred to be unnamed said the victims include 10 males and 10 females.
Seven gunmen armed with blades, guns and bombs also murdered two Bangladesh police officers in the early hour of the attack.
Gunmen killed the victims soon after they stormed the Spanish restaurant - Holey Artisan Bakery in Dhaka's diplomatic enclave Gulshan - in Bangladesh's worst hostage crisis, a spokesman of the Bangladesh Army had said in a media briefing on operation "Thunderbolt" that ended the 13-hour hostage crisis on Saturday.
Director of Military Operations Brigadier General Naim Ashfaq Chowdhury in the briefing did not disclose the nationalities of the victims.
According to the Italian Foreign Ministry, the Italian victims are Adele Puglisi, Marco Tondat, Claudia Maria D'antona, Nadia Benedetti, Vincenzo D'allestro, Maria Rivoli, Cristian Rossi, Claudio Cappelli and Simona Monti.
Indian External Affairs Minister Sushma Swaraj already made public that an Indian female student was among the victims.
"Tarishi was 19 years old. She passed out from American School Dhaka. Presently, she was a student at Berkeley," she said in her another tweet.