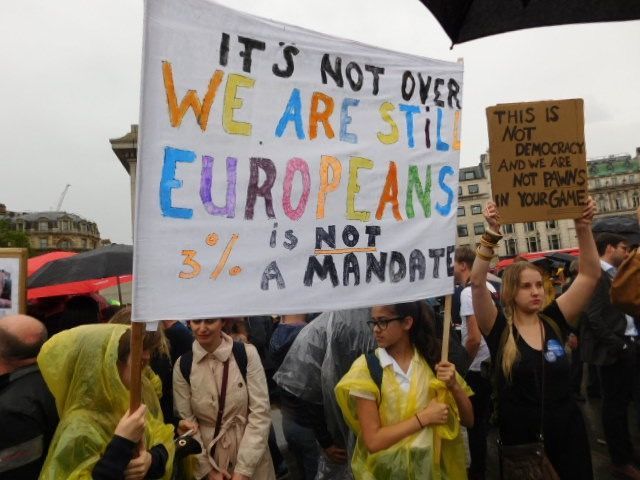 Over a thousand protesters assembled in London's Trafalgar Square aimed at showing London's solidarity with the European Union following the recent EU referendum. Photo/Angus McNeice
On June 23, 52 percent of voters voted for the UK to leave the European Union, defying final polls that predicted a narrow victory for Remain.
Tuesday's protest added to the sustained discontent among the 48 percent who voted to remain in Europe. Hundreds took to parks and squares in London, Glasgow and Edinburgh on June 25 to protest the result. Out of the UK's 12 nations and regions, London, Scotland and Northern Ireland were the only ones to vote Remain.
An online petition registered on Parliament's official petitions website calling for a second referendum reached 3.9 million signatures on Tuesday. A House of Commons Petitions Committee is investigating the petition over allegations of hacking and the committee confirmed it has removed 77,000 signatures which were found to be fraudulently added.
Hundreds of thousands of Leave and Remain supporters expressed their emotions on social media in the days after the shock result. The hashtag #Brexit was used 1.8 million times on Twitter in the 24 hours after the count was announced.
"It's the most devastating and terrible result," Lucy Reynolds, 50, a film lecturer from London, said from Trafalgar Square. "Cameron already went and got an extremely good deal from the EU for Britain, we were lucky to get that, and they can't keep pushing it. The people that voted out, by such a small margin, are holding the whole country to ransom."
The #LondonStays protest was an impromptu event organized Tuesday morning — an original protest called "Stand Together" was scheduled to take place at Trafalgar that day but was cancelled as potential attendance numbers grew too large.
"Stand Together" allegedly had the support of the Greater London Authority (GLA), the Mayor of London and the Met Police, though was called off after 50 thousand people clicked the "attend" button on the event's Facebook page and a further 87 thousand showed interest.
Trafalgar has an audience capacity of 10,000, though the GLA has previously licensed the square's capacity for 19,999.
Following the cancellation of the "Stand Together" protest, an anti-Brexit march starting from Westminster is planned for July 9. Thus far several thousand have clicked "attend" and 10 thousand have expressed interest on the event's Facebook page, which went live earlier on Tuesday.
To contact the reporter: angus@mail.chinadailyuk.com