Up to 5,000 people at the same time will be able to use the world-class 10,000-sq-meter space
A world-class media center and workplace has been set up in Hangzhou, Zhejiang province, to meet the demands of reporters during the G20 summit scheduled in September.
The Media Center for the G20 summit is located in the No 5 Area, on the first floor of the Hangzhou International Expo Center, the main venue of the event.
It covers an area of 10,000 square meters and can accommodate 4,000 to 5,000 people.
The media center has a total of 15 functional zones, including a comprehensive service area, media workplace, press room, public signals and satellite transmission area, rest area, food and beverage service area, post office, bank, supermarket, and other public facilities.
There is also an area set aside for meditation and a prayer room for reporters with religious beliefs, according to Huang Shengye, the center's designer.
As many as 1,500 reporters can be accommodated in the media workplace, where more than 750 computers are available. Every cubical has internet access and the whole media center is covered by Wi-Fi, which has been programed to ensure a strong signal.
The seven press rooms, made up of four small rooms, two medium rooms and one hall, can host news conferences of various sizes.
"All venues were already in existence and we are working to improve them through repairs and upgrades. We didn't pay anything extra for any unnecessary part," Zhao Yide, the top official of Hangzhou, was quoted as saying at an earlier media conference.
Most of the upgrades to the media center are already complete, with work entering the final phase, including interior decoration and pipe installation, which is expected to be finished in early August, according to the organizer.
Contact the writers at shixf@chinadaily.com.cn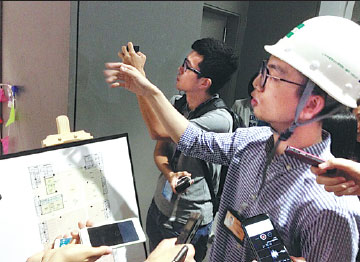 A designer of the Media Center for the G20 summit introduces it to reporters. Shi Xiaofeng / China Daily
(China Daily 06/27/2016 page7)