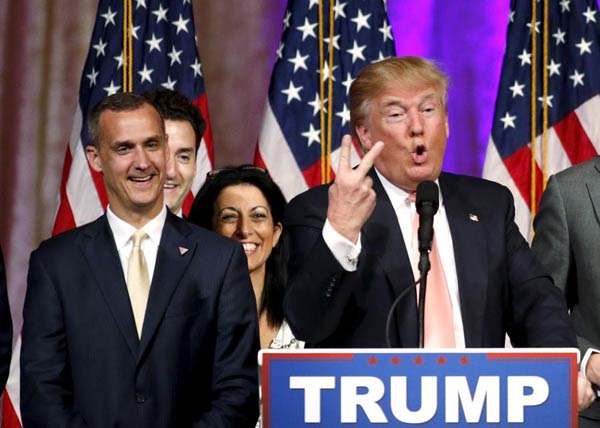 Republican US presidential candidate Donald Trump's campaign manager Corey Lewandowski (L) looks on as Trump speaks about the results of the Florida, Ohio, North Carolina, Illinois and Missouri primary elections during a news conference held at his Mar-A-Lago Club in Palm Beach, Florida, US, March 15, 2016. [Photo/Agencies]
WASHINGTON -- Presumptive Republican presidential nominee Donald Trump dismissed his campaign manager on Monday as the New York billionaire developer was bogged down in controversies.
"The Donald J. Trump Campaign for President, which has set a historic record in the Republican primary having received almost 14 million votes, has today announced that Corey Lewandowski will no longer be working with the campaign," according to a statement offered by the Trump campaign to The New York Times.
Also with a belligerent character as Trump, Lewandowski was reportedly in constant conflict with GOP officials at the Republican national committee. His competing relations with Trump's new campaign chairman Paul Manafort, an experienced presidential campaign advisor to many Republican candidates, was also a reason behind his dismissal, according to local media who cited sources familiar with the issue.
The dismissal of one crucial member of Trump's core team came at a time when Trump was ripped by both Democrats and leaders within his own party after he made a series of controversial remarks, including his accusation that a Hispanic-American judge overseeing a civil fraud suit in California involving Trump University was biased.