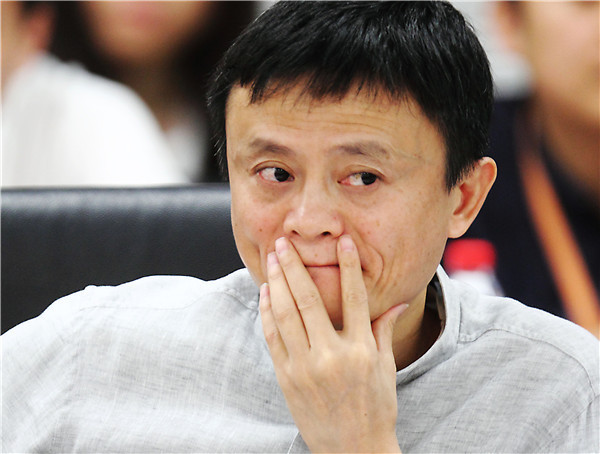 Jack Ma, chairman of Alibaba Group Holding Ltd. [Photo/CHINA DAILY]
Jack Ma's comment that fake products made today are "better quality and better priced" than the real goods should not be taken as a reflection of the company's failure to curb counterfeits, counterfeit experts said.
The e-commerce CEO made his comments on Tuesday at an investor meeting in Hangzhou. According to reports, he said the better quality of the fake goods is due to many of them being made at similar factories, sometimes with the same labor force using the same materials.
"They are exactly the same factories, exactly the same raw materials but they do not use the names," Ma said, according to The Wall Street Journal.
He also said the problem of counterfeit goods cannot be solved "100 percent, because it's the fight against human instinct", according to The New York Times. "But we can solve the problem better than any government, than any organization, than [anybody] in the world."
Ma's remarks were made in response to persistent criticism from luxury brands that the company is not doing enough to get rid of counterfeit goods on its sprawling e-commerce platform Taobao, where it is easy to find fake designer bags and jewelry.
Peter Yu, professor of law at Texas A&M University, said in an interview that counterfeits can be classified into various categories, with Ma most likely referencing "A-grade" goods that are so difficult to tell apart that they can only be verified by lab technicians or the original manufacturer.
"From the perspective of brands, when they see fake goods on Alibaba, they believe that Alibaba hasn't done enough to enforce and protect intellectual property rights, and that Alibaba should do more," said Yu, who is also co-director of the Center for Law and Intellectual Property at Texas A&M.
"But the part of the story that isn't emphasized is how much money and effort those auction sites have already put in to police the networks," he said.
Yu said that fake goods are also available on eBay, Alibaba's American equivalent, but the scale of counterfeiting in China is much larger, so even with the resources that Alibaba is putting into combat the proliferation of fakes, brands might still feel the efforts are inadequate.
Alibaba had been criticized by the Chinese government for failing to curb fakes, and late last year the US government issued a stern warning to the company, saying it could be added back to the "Notorious Markets List" if it does not do a better job enforcing piracy rules.
Alibaba had been admitted as a general member of the International AntiCounterfeiting Coalition (IACC), a group that represents many luxury brands, but the category was suspended a month after it had been admitted under the new category. The organization's board of directors said the suspension was due to concerns from members of the group, which the Journal reported included Michael Kors. A representative from Michael Kors declined to comment.
"I think the focus of the conversation in the industry isn't to point fingers at Alibaba or any marketplace, but about making sure that our technologies are advanced, that they're easy to apply, track and trace," said Rich Cremona, CEO of OpSec, a brand protection company whose clients include other brands in the IACC, of which it is also a member.
Cremona said in an interview that Alibaba works closely with its clients to ensure that goods are legitimate, and that there has been a "real effort for many of these online market places to step up enforcement to define legitimacy".
At the investor meeting, Alibaba forecast that its sales through the year ending March 2017 will rise at least 48 percent, which is the company's first financial forecast since the US Securities Exchange Commissionannounced it was investigating the company's accounting practices.
Contact the writer at amyhe@chinadailyusa.com.